The Tsavo West National Park is the other part of one of the greatest wildlife conservancies in the world. Like Tsavo East, Tsavo west is known for the fairy tale of the man eaters and its resident large number of Red Elephants. Tsavo West is one of Kenya's largest national parks and forms one of the biggest conservation areas for wildlife on Earth. The park is blessed with a very big number of wildlife, however, game viewing is challenging because of the thick vegetation cover and large size of the park, a thing that makes it less popular than the Amboseli National Park and the Maasai Mara game reserve. Worth mention however, is the fact that this amazing park has one of East Africa's most varied landscapes comprised of stunning hills and volcanic craters.
The Safari Experience in Tsavo West
Tsavo National Park is best known for the two (2) maneless lions back in the early 1900s that enjoyed preying on human flesh and blood. It is alleged that these terrorized that people who were constructing the railway line connecting Mombasa and Nairobi, and before they were eventually shot and killed, they had killed approximately one hundred and thirty (130) people. Also Tsavo was a main battle field back in the World War I between the German and British.
At the moment the park is very tranquil, and is popular for its resident large number of elephants that are red in color, a characteristic color they attain from which dust bathing in the red colored soil – a thing they really love. There are a number of fascinating geological features that are found within the park which were formed as a result of volcanic activity. Tsavo West covers a very large geographical size and will necessitate visitors to embark on game drives for several hours to be able to see the different wild animals. To enjoy your safari in Tsavo National Park, we can include the park in one of our Mombasa safari tours, incase you are planning to visit Mombasa or Diani for your beach vacation.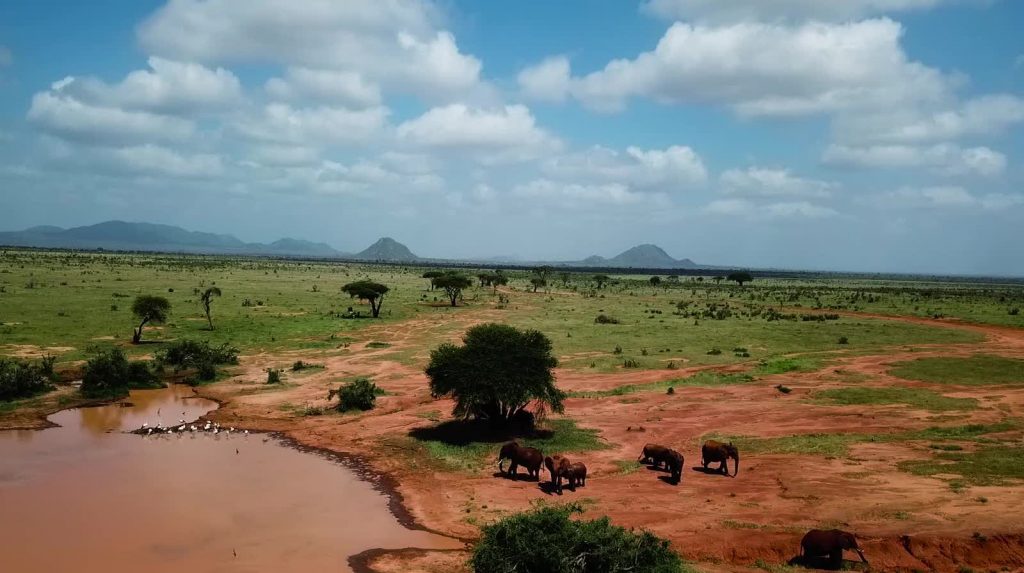 The park offers guided walking safaris that offer guest an opportunity to encounter the Shetani Lava flow as well as explore the impressive savannah. The Shetani Lava flow is believed to have been formed by an eruption that is estimated to have happened two hundred (200) years ago. it is eight (8) kilometers long, six (6) kilometers wide and has a thickness of five (5) meters. Along its course it formed very impressive caves which are worth exploring.
The Mzima Springs are the major focus in the park. It is because it produces three hundred and fifty million liters of clean fresh water each day thus serving the largest supply of water in Mombasa. Because the water is very clear it is easy for visitors to observe the hippos beneath the water from the window in the underground hide found in this place.
What to do in Tsavo West National Park
Visitors can explore the Chaimu volcanic crater through walking safaris
Boating tours can be enjoyed on Lake Jipe
Rock climbing which is ideal for the adventurous travelers can be done at Peak of Tembo.
Visit the Mzima Springs: the underground viewing hide enables visitors to enjoy a unique perspective of not just Hippos but Crocodiles as well from underwater.
Explore the Shetani flow is quite a sight to behold. It is a place where a volcano erupted and created a river of magma that hardened.
Additional activities to enjoy on your safari in Tsavo west Activities in the park include;
Rock climbing
Guided bush walks conducted after receiving special permission
Game drives
See our 3 days Mombasa Safari to Tsavo East & Tsavo West which is a topseller for our safari tours that start from Mombasa, Diani, Malindi  or Malindi Beach.
Tsavo West National Park Accommodation
There are a number of accommodation facilities found in and around Tsavo East National Park, and these range from budget, mid-range to luxury facilities. Below we have highlighted just a few of these:
Finch Hattons Camp:
This camp is named after a Briton known as Denys Finch Hatton who was known for the lavish style in which he carried out his safaris. In this camp, visitors can also enjoy a stylish safari experience similar to the golden colonial old days. All accommodation here is in the lavish en-suite safari tents. Visitors can also explore the park through exciting nature walks and guided morning and evening game drives.
Kilaguni Serena Safari Lodge: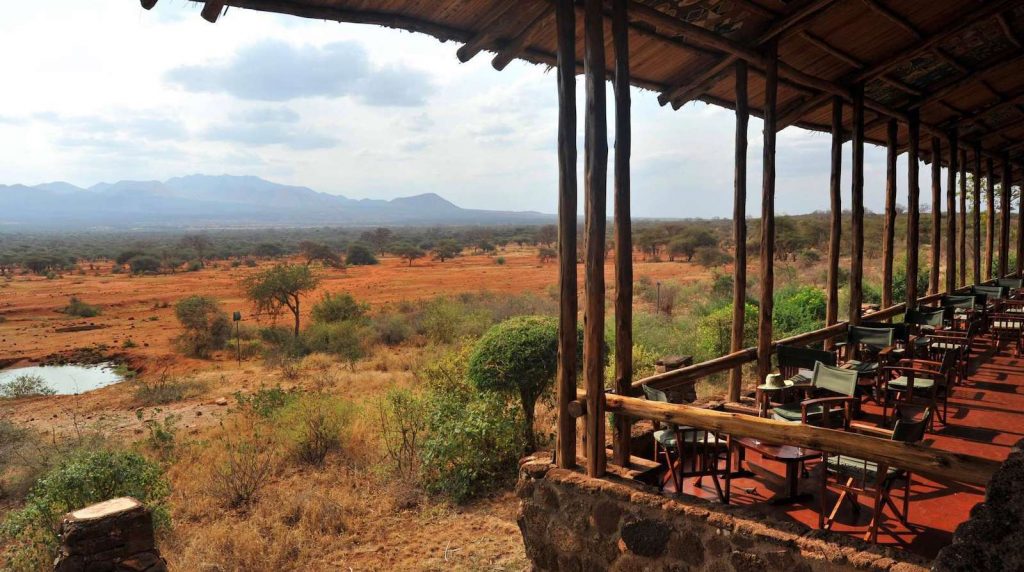 The Kilaguni Serena Safari Lodge is a stone-built facility and is found at the bottom of Mountain Kilimanjaro. It overlooks a waterhole popularly visited by large numbers of wild animals.
It is in this place that visitors can enjoy an authentic African safari experience. Visitors stay in en-suite rooms each with its own private verandah from where game viewing can also be done.the lodge offers a number of tourist activities to guests including trips to the Mzima Springs, climbing volcanic hills and taking guided walks.
Best time to visit | Climate in Tsavo West
The Tsavo West National Park is located close to the equator and therefore experiences a moderate climate. Its temperatures range between lows of 20°C and highs of 30°C. it has two wet seasons, with the long rains starting in March all through April, while the short rains come in November and December each year. This is consistent with the best time to visit Kenya for safari, so Tsavo West can be included in any of our Kenya safari tours from Nairobi or Mombasa.
Tsavo West National Park; Getting There
The Tsavo West National Park is located in southeastern Kenya. This place is about 240 kilometers (150 miles) from Nairobi along the highway to Mombasa. the wide Tsavo National park is divided into two different parks for proper administrative purposes and these include Tsavo West and Tsavo East.
Tsavo west can be accessed by either road or air transport as highlighted below. The largest number of guests accessing the Tsavo west comes either through Mombasa or Nairobi – Kenya's capital, or from the nearby Amboseli National Park. However the major access routes include the Mtito Andei Gate from Kenya's capital Nairobi as well as the Chyulu Gate from the nearby Amboseli National Park. People connecting from Mombasa will enter the park near Manyani near the Tsavo Gate
Air transport: The largest number of the lodges and other accommodation facilities has their own private airstrips. However the main airstrips in the Tsavo West National Park are at Finch Hattons, Kilaguni and Ol Donyo Wuas.  Get in touch with our safari experts for more information and safari tours to Tsavo West National Park.
Tsavo West National Park and Tsavo East National Park are separated by the Nairobi – Mombasa Highway. The Tsavo west national Parks stretch from the Nairobi Highway up to the Kenyan south Eastern border to Tanzania where the park borders the smaller Mkomazi National Park which is on the Tanzanian side.
Tsavo National Park is a famous for its variable ecosystem that supports lots of different species of animals and birdlife alike.
The most notable attractions of Tsavo west include; the Chaimu crater, Shetani Lava flow, Roaring rocks, and the oasis o f Mzima springs a natures miracle, and a must see. This natural spring forms a natural dam with an underwater watching chamber that offers excellent viewing of Hippopotamus and other aquatic life. The park also gives breathtaking views of Mt Kilimanjaro, and great numbers of birds and animals including rhinos, lions, cape buffaloes and with luck the rare African hunting dogs.
To bare us witness of this natures marvel you just have to book a safari with us and after that you will be full of memories and stories to tell for the rest of your life!
A safari to Tsavo west can be done as a 2 days safari to the park or combined with Tsavo East to make a 3 or 4 days Tsavo Safari. Tsavo west can also be toured in longer safari packages in combination with other wildlife areas such as Amboseli and the Masai Mara.
We also offer Short Safaris from Mombasa to Tsavo West National Park as well as combined Tsavo West and East.