One of our short safaris from Nairobi our 4 Days Kenya Safari to Amboseli & Tsavo West is great package if you are short of time but would still want to explore some of the finest national parks. Although this four-day safari in Kenya starts and ends at Nairobi, we can still customize it for you to start and end at Mombasa Kenya with a small transport supplement because the car will have to drive an empty run from Mombasa back to Nairobi at the end of the safari. Please get in touch with one of our Kenya safari experts for more information if that is not yet clear for you.
You will have fun and appreciate the wild, habitats, nature as well as the behavior of the plants and animals in the surrounding environment as well as people with their culture.
4 Days Kenya Safari to Amboseli & Tsavo West Itinerary
Day 1: transfer from Nairobi to Amboseli National Park
Day 2: Explore Amboseli National Park
Day 3: Transfer from Amboseli to Tsavo West
Day 4: Morning game drives. Tsavo West, drive Back to Nairobi or drop off at Mombasa
4 Days Kenya Safari to Amboseli & Tsavo West – Where to visit?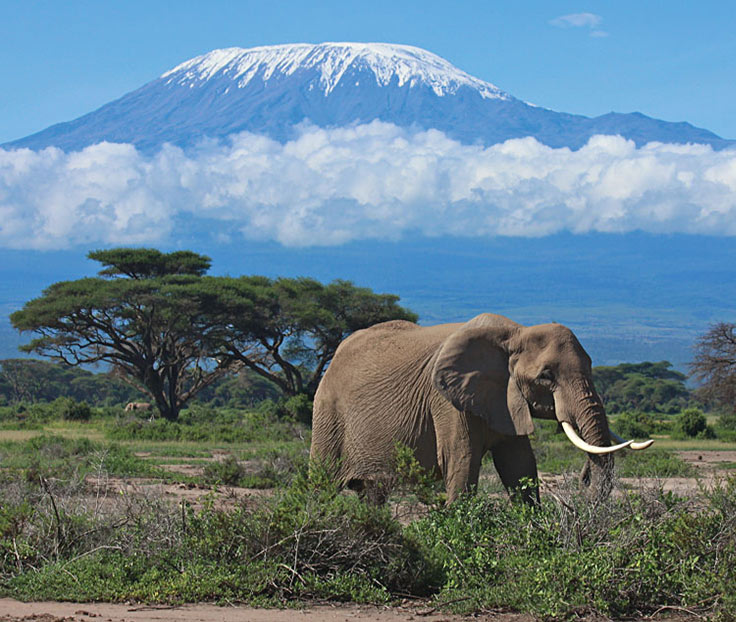 Our 4 Days Kenya South Safari will takes you to two national parks situated in southern Kenya, where you will dwell for two nights in Amboseli National Park before you finish with one last night in Tsavo West National Park with game drives. If you have ever dreamt of yourself in the middle of the wilderness with elephants in front of you, with the majestic Mount Kilimanjaro at the backdrop, then this is the safari for you. Amboseli National park offers the best views of the highest mountain in Africa and the highest free-standing mountain in the world; Mount Kilimanjaro.
Tsavo West National Park on the other hand is part of greater Tsavo Ecosystem that also includes Tsavo east and a legendary wildlife area where thousands of wildlife call home. The Tsavo West National park is also where the Ngulia Rhino Sanctuary is located and with a little luck you may sport all the Big five animals 5. Mzima Springs a natural oasis of its kind is also a must visit in this magnificent park.
Where to Stay during 4 Days Kenya Safari to Amboseli & Tsavo West
Your lodging can be standard or elegant camps or lodges that you prefer.  This particular 4-day safari in Kenya we have included nice mid range lodges but we can also revise the same package with other upgraded accommodations that can be found in these two parks.
The midrange lodges / camps that we use are comfort level accommodations that have en suite bathrooms, real beddings, flush toilets and overhead showers with safety and hygiene of the highest possible standards. That you may expect. We regularly inspect the accommodations in order to make sure that we offer you only the best.