This 3 days Masai Mara Safari is the best package for anyone who can only get a short amount of time for a safari tour in Kenya or those who have a limited budget. The 3 days safari in Masai Mara starts and ends at Nairobi where you can be picked up straight from the Jomo Kenyatta International Airport if you have got an early arrival. You can also be picked up from your hotel within the Nairobi Central Business district and the city's environs.
It is a road safari so you will be driving through the highway that leads to Lake Nakuru and Naivasha then branch towards Narok in the Great Rift Valley; the home of the world famous Masai tribe. Safari to Masai Mara National Reserve Can be done in a regular safari van or a 4×4 Land cruiser depending on your preferences and Budget. Please let us know what you prefer.
3-day Masai Mara safari outline
Day 1 – Pick up from Nairobi, transfer via Narok to the Masai Mara Game reserve
Day 2 – Full day safari in Masai Mara, or morning and afternoon game drives with a break for lunch.
Day 3 – Morning safari in Masai Mara, on your way out of the park. Transfer back to Nairobi.
The Masai Mara Game Reserve at a glance ( 3 Days Masai Mara Safari )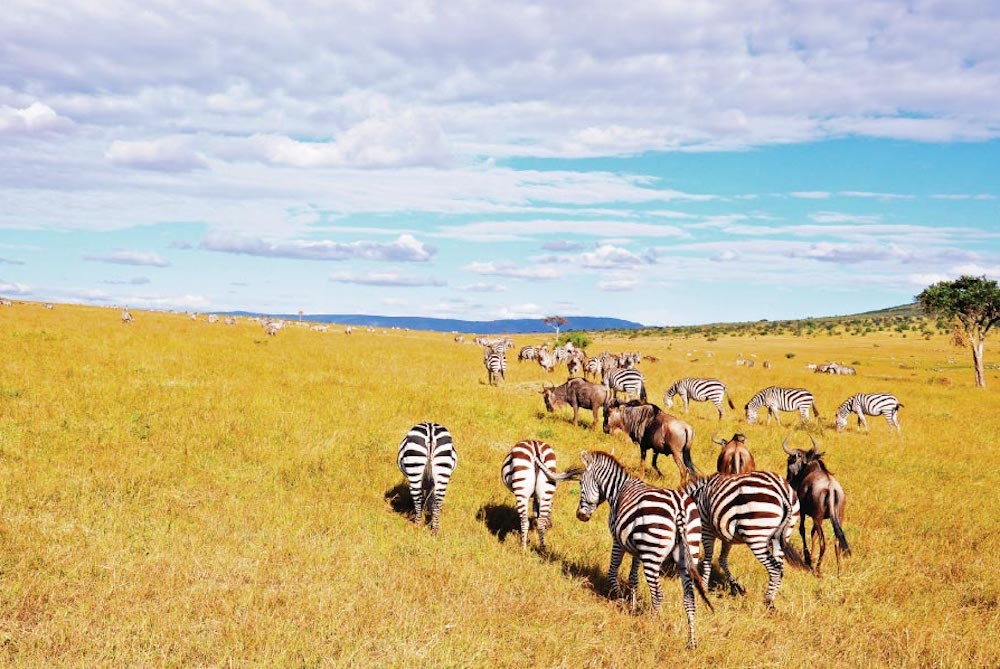 Maasai Mara National Reserve is arguably the most famous and most celebrated game reserve in Africa; an area of preserved savannah wilderness in southwestern Kenya, bordering Tanzania. Masai Mara Game Reserve is famous for many animal species that include lions, giraffes, leopards, cheetahs, buffalos, elephants, zebras, hyenas and hippos.
Masai Mara's landscape has grassy plains and rolling hills and the area has beautiful panorama especially after the rains season when vegetation is green and beautiful.  The Wildebeest herds in Masai Mara traverse its plains during their annual migration and the river crossings happen at the Mara and Talek rivers.
The best time for the 3 Days Masai Mara Safari in Kenya
This 3-day safari in Masai Mara can be taken any time of the year if you like, but the best time to visit Masai Mara is July to end of September which is the dry season in Kenya but also it coincides with the Great Wildlife Migration.
December to March is also good time to visit Masai mara and therefore good time to go o this 3-day safari in Masai Mara. April and May be the long rains season and therefore not the best time to visit Masai Mara but you can take advantage of the lowest lodge rates in those two months.
Masai Mara Wildebeests Migration Season
Masai Mara is famous for the annual wildebeests migration also referred to as the Great Migration, which has been recognised as one of the 7 wonders of the world. The best wildlife spectacle on earth, Masai Mara Wildebeest Migration sees more than 1.5 million herds of wildebeests accompanied by thousands of Zebras and thompson gazelles roam the wilderness covering thousands of kilometers from Southern Serengeti in Tanzania and ultimately covering the crocodile infested waters of Mara River.
3 Days Masai Mara Safari and more..
This same Masai Mara Safari can be extended to up to 4 or 5 days depending on your preference and wishes. Please let us know by email and we shall get back to you as soon as possible with the best safari price. Check out our 4 Days Masai Mara & Lake Nakuru National Park.
The price for the safari is on request and it depends on which accommodations that you choose to use. You can stay at Standard luxury, Deluxe/Top end lodges or tented camps, or cheaper mid range lodging or even do the tour staying at budget lodges or tented camps available.
Get in touch with our travel experts for free advice on Kenya safaris and tours or on this particular 03 Days Masai Mara Safari!