Our 9 Days Best of Kenya Safari takes you to both the most famous parks like Lake Nakuru and Masai Mara as well as the less travelled / off the beaten track wildlife area in Kenya like the Samburu National Reserve and its sister reserve Shaba, but also Ol Pejeta Wildlife Conservancy as well as the Aberdares National Park.
Highlights of our 9 Days best of Kenya wildlife safari
Day 1: Arrival into Nairobi
Day 2: Drive to Ol Pejeta Wildlife Conservancy
Day 3: Transfer to Samburu & Shaba Game Reserves
Day 4: Spend a full day safari in the Samburu and Shaba Game Reserves
Day 5: Transfer back to the Aberdares National Park
Day 6: Drive to Lake Nakuru National Park
Day 7: Drive to Masai Mara Game Reserve
Day 8: Full day Safari at Masai Mara Game Reserve
Day 9: Drive back to Nairobi for Departure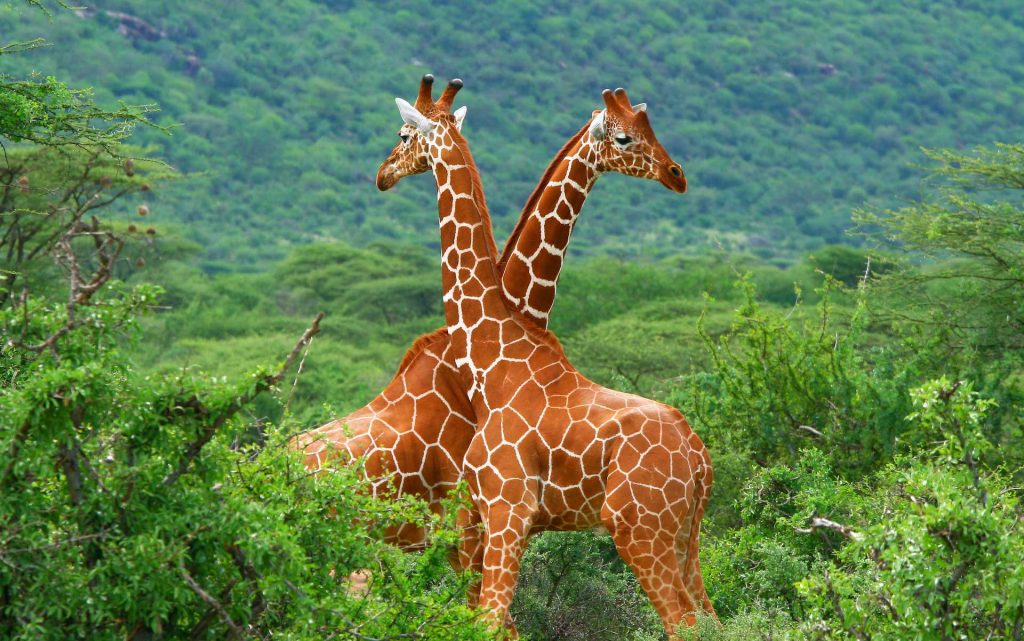 It is a safari tour in Kenya that gives un-matched wildlife experience in Africa, taking you from the bustle and hustle of the City of Nairobi towards Northern Kenya with great scenery and landscapes views that are next to none. Get unbelievably clear sights of the Mount Kenya (second highest in Kenya after Mt Kilimanjaro) on the way north before you settle down at Ol Pejeta for the rarest chance of seeing the last remaining Northern White Rhinos and the rare Chimpanzees in the Chimpanzee sanctuary that is located inside this private wildlife conservancy.
This safari package does not take you to the whole of Kenya but covers the highlights of a Kenya Safari toward the North, Central Kenya and the Great Rift Valley. In 9 days it is a true wildlife safari experience that takes you not only to the usual National Parks and Reserves of Masai Mara, and Lake Nakuru but also to the Aberdares Mountains, The Northern Frontier in Samburu and the Ol Pejeta Conservancy.
Ol Pejeta Conservancy is not an ordinary park but a private Conservation Area where you get to see the rare rhinos as well as the unfamiliar chimpanzees in Kenya.
This Kenya Tour is a full safari package starting with your arrival into the Jomo Kenyatta International Airport in Nairobi and drop of at the same airport for your flight back home. We do not include your International flights.
Accommodation, 9 Days Best of Kenya Safari
Accommodation during this 9 day best of Kenya safari will be in comfortable mid-range lodges and tented camps located both inside the parks and reserves and also some are located in the concession areas in the boundaries of parks and reserves, therefore offering the same wild feeling of being in the middle of the African wilderness.
Best time to visit, 9 Days Best of Kenya Safari
This safari can be taken at any time of the year but some parks like Masai Mara and Samburu Game Reserve as well as Aberdare National Park could be avoided in the long rains season of April and May if possible. The best time to visit would be Jan – March, and again June – October, but also October to December can be an Ok time to visit these parks.
Apart from game viewing (traditional safari), this package allows for walking safari, horseback safari, village walks in the Masai Mara as well as hot air balloon safaris if you like, all at extra cost.  Get in touch with our Kenya safari experts for more information on our 9 days Best of Kenya Safari!