Ol Pejeta Conservancy is a prominent known wildlife haven that is of great value in the conservation of wildlife in Kenya. It is not only a moderately uncongested wildlife sanctuary but also a one of the best places to have a Wildlife Safari in Kenya to see a remarkable diversity of wild animals inclusive of the vulnerable and practically extinct species.
The spectacular Conservancy was founded in 1988 in the form of a game ranch and was converted in 2004 into a non-profit wildlife conservation area and today covers an area of 360 sq km (90,000 acres). It is situated on the lower slopes between Mount Kenya and the Aberdare Mountain ranges. The Ol Pejeta conservancy was habitat to the remaining two world Northern White rhinos, but in March 2018, the Northern male White rhino that was the last of its kind died in Ol Pejeta and that is when the Northern White rhino was practically considered an extinct white rhino subspecies.
Where is the Ol Pejeta Conservancy Located?
It is located in Kenya on the Laikipia Plateau flatlands, close to the town of Nanyuki in the district of Laikipia. It rests in the Northern about 217 kilometers from the capital city of Nairobi and in the North Eastern about 17 kilometers from Lake Nakuru National Park. It takes two to three hours get to Ol Pejeta Conservancy from Nairobi by road transport. The conservancy also rests at the equator.
The Aim of the Ol Pejeta Conservancy
Ol Pejeta safeguards big numbers of vulnerable and rare species and it is at the frontline of Kenya's wildlife conservation. The objective of Ol Pejeta is to serve as an independent financial organization that acts as an example of creativity in both community outreach and conservation. The conservancy seeks to conserve different wildlife in a manner that raises tangible welfare benefits for the local communities around the area and throughout the country. As a way of reaching its goals, Ol Pejeta manages a program for wildlife tourism together with an education center for conservation plus a joined livestock system of production.
Which Wildlife is found in Ol Pejeta?
Through visiting this conservancy you will also be able to access the Sweetwaters Chimpanzee sanctuary that was in 1993 launched by the Ol Pejeta Conservancy, the Jane Goodall Institute and the KWS (Kenya Wildlife Service). There are corridors in its boundaries that allow one to freely move between the greater Samburu, the Laikipia and the Ol Pejeta ecosystem.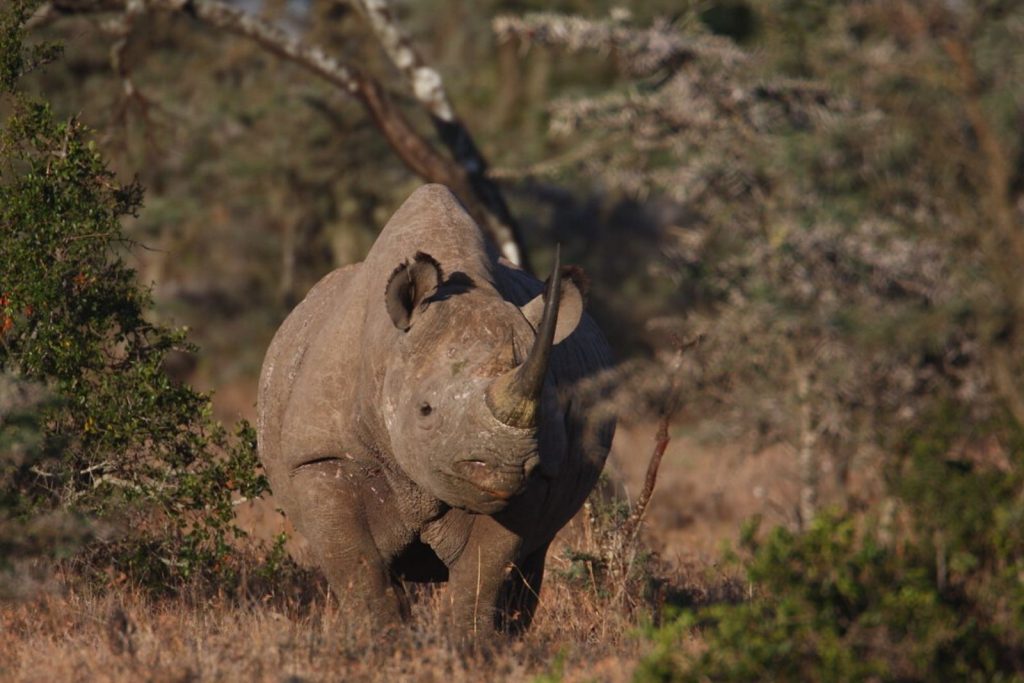 Ol Pejeta harbors over one thousand huge mammals. It is a sanctuary to Jackson's hartebeest, Grevy's zebra and is also attributed for its endangered species boma, as its home to this rhino species. In addition, the Conservancy has around three hundred elephants with. It has large predators with around thirty cheetahs, sixty-seven lions, sixty hyenas, twenty leopards and a group of wild African dogs. It has minor predators like the bat-eared fox, the caracal, the serval and the black-backed jackal.
You can also find baboons, hippos, monkeys, giraffes, ostriches as well as aardvark. Antelopes like the Thomson's gazelle, the Beisa oryx, the Grant's gazelle, the impala, eland as well as the waterbuck also live here. There are also more than three hundred bird species.
What to do in the Ol Pejeta Conservancy
Have a one on one with Baraka –the black rhino
Baraka was among the initial rhinos to be birthed on the grounds of the Ol Pejeta Conservancy. Following the loss of its eye to an infection from a fight, he sadly got a cataract in the second eye and finally lost his sight completely. Baraka was transferred to an enclosed 100 acre space from the wild to keep him safe because of the low survival probability he faced if he had stayed on his own.
Today, Baraka is a representative for his fellow species and at the Ol Pejeta, he is a well-known attraction. There exists a platform for feeding Baraka that allows tourists to get a closer view and also have the opportunity of feeding him, something that you would not want to miss out on doing. On a daily basis, Baraka receives visitors from 9:30 in the morning to 6:00 in the evening. He is fed thrice a day. The price to pay for a sight of Baraka plus the information about the center are all included in the Conservancy cost.
One of the bestselling Kenya safari tours that include Ol Pejeta is our 9 Days best of  Kenya Safari, that also includes a visit to Lake Nakuru, Samburu, Aberdares and Masai Mara.
Tracking of lions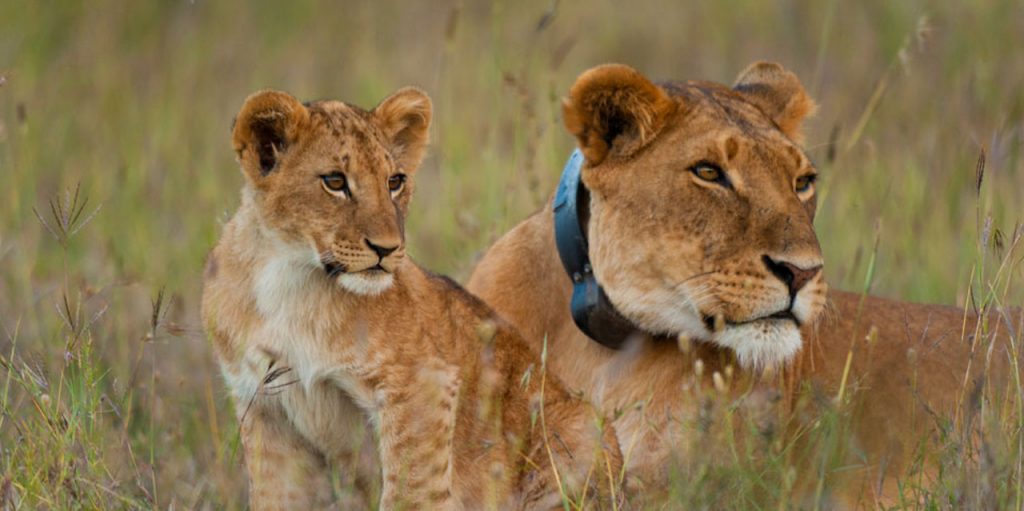 Head out to Ol Pejeta Conservancy and have a unique experience tracking the lions here. It is an interesting way of discovering more information relating to these magnificent animals and also showing your good will towards this conservation project. The entire information collected is transferred to the Ol Pejeta department of Ecological Monitoring.
Visitors are required to stay within their vehicles throughout the entire adventure. The departing time for the tracking expeditions is from 6:30am to 9:00 am and from 3:30 pm to 6:30 pm.
Below are the rate charges:
January to June and September to December
For every adult: US $60
For every child (11 years and below): US $30
July and August
For every adult: US $75
For every child (11 year and below): US $38
Meet the Chimpanzees in Sweetwaters Sanctuary
Established in 1993 from a joint coalition between the Kenyan Wildlife Services and the Jane Goodall Institute, the Sweetwaters Chimpanzee Sanctuary was built as a haven for chimpanzees that had been
confiscated and orphaned. It is also the sole site in Kenya from where one can see exotic chimpanzees. This haven offers a permanent home with a natural setting with forty or more chimpanzees that are safeguarded over an island. You can only access the island chimpanzee sanctuary by boat.
Note that: Guests in the Porini Rhino Camp have a better chance of accessing the sanctuary at nine in the morning prior to the arrival of guests from different camps who arrive at ten in the morning. The fee for touring the Chimpanzee sanctuary is inclusive of the Conservancy cost.
Tour the Morani Information Center
This information center provides visitors with the chance to study more regarding the various species of wildlife that reside in the Ol Pejeta from habitat to behaviour to anatomy. It gives a deeper understanding as well of the everyday operations in the Ol Pejeta Conservancy that conserve wilderness and protect the wild animals. The Morani center can be accessed from 9:00 a.m to 5:00 p.m everyday plus it is doesn't cost you anything.
Encounter the Endangered Rhinos of Ol Pejeta
For any trip you take to Ol Pejeta you cannot miss seeing the Endangered Species Boma. Visitors can get to know and understand more information from here on the Northern White rhinos that are severely threatened with two of them being the only ones left throughout the world. Both rhinos are situated in this place and tourists can have an experience of a lifetime by just having the chance of getting in close range with them and seeing these beautiful creatures one on one. There are two black rhinos, six Southern white rhinos, many Jackson's hartebeest and Grevy's zebras at this boma. The tour time begins at 2:45 pm and the tour takes close to two hours.
Where to stay in Ol Pejeta Conservancy
Ol Pejeta is a sanctuary to nine lodges, tented camps as well as homestays that each offers a unique encounter to the visitors. For all tastes and budgets, something is there within the Conservancy. The revenue created from tourism is used to support the community charity work and the conservation of Ol Pejeta thus making sure there is a future that is tangible and sustainable for the people and the wild animals that give a unique aspect to this place.
Pelican House
The Pelican house is the best spot to have a good time with friends and family. With a view of the calm Pelican dam, this comfortable self-sufficient cottage can accommodate eight people but can also accommodate twelve people on request. Situated East of the Ol Pejeta Conservancy, the Pelican House is within close proximity to a few of the amazing wild experiences of the Conservancy.
Kicheche Laikipia Camp
Situated in the Mountain Kenya shadows at the base of a native forest with the view of a waterhole, Kicheche Laikipia is a small lavish tented camp that won an eco-award. It has six luxurious tented suites that offer an amazing bush adventure for twelve guests maximum. A personal and private surrounding exists inside of this exquisitely organized camp.
This camp has six sumptuous tailor-made tents, all completely insect free with en-suite facilities fully furnished with a wardrobe, hot showers and a flushing toilet. The tents are surrounded by a waterhole that is a home for the native wild animals. Kicheche camps also have an amazing camp at Masai Mara National Reserve which can be combined with Kicheche Laikipia at Ol Pejeta.
Sweetwaters Serena Camp
This camp is well-endowed with fifty deluxe tents with each cozily equipped with a private bathroom and balcony overlooking the Mount Kenya's setting and a watering hole. For an intelligent tourist travelling today, the Morani block provides eleven enormous skillfully designed tents that provide internet connectivity, shaving mirrors, tea/coffee making amenities plus hair dryers for each tent.
Mutara Camp
Mutara is the sole camp in the Mutara Conservancy 20,000 acre with fifteen tents only. It neighbors the renowned Ol Pejeta Conservancy plus the visitors have full access of this wilderness area.
The luxurious custom-designed tents possess topnotch en-suite facilities and interior furnishings. It is quite hard to believe that you are residing in a tent. The whole front side is folded open to allow the light from outside to flow into your room and in the afternoon, the breeze can cascade through.
Every tent possesses a fancy big bed with a comfortable reading area. Visitors are able to enjoy a sundowner from their well equipped mini-bar on their personal decks, staring into the limitless Africa while being enveloped by the bush sounds and sights.
The Stables
The stables provide essential but cozy accommodation facilities. They give you full board facilities that entail dinner, lunch (the Kenyan way) and breakfast plus coffee and tea as the day goes by. They provide boiled drinking water plus a fridge is accessible to all visitors for their personal refreshments. Every room has one bed accompanied by a mosquito net, power socket, laundry basket and a clothes hangar. At the stables, the bathrooms are communal.
Ol Pejeta Bush Camp
This bush camp has a total of seven tents, where six of them provide double or twin beds that shelter twelve guests in total. The camp also contains a family tent that is accessible and is suitable for four guests at most. You can book the camp solely for family or if you are in a group that has four members minimum for a minor supplement every night. Additions can be made for groups that are large with temporary tents in case it is necessary.
Porini Rhino Camp
This camp contains seven large guest tents, all cozily equipped with safari showers and en-suite bathrooms with flush toilets. This camp is eco-friendly with no generator and the lighting is solar powered. All tents have been positioned to have breathtaking sights of the neighboring places.
Ol Pejeta House
If you yearn to go back to the past, to the old Kenyan traditions country home hospitality, Ol Pejeta House is the perfect choice for you to reside in. It provides two first class guest rooms accompanied with a dressing room and en suite bathrooms.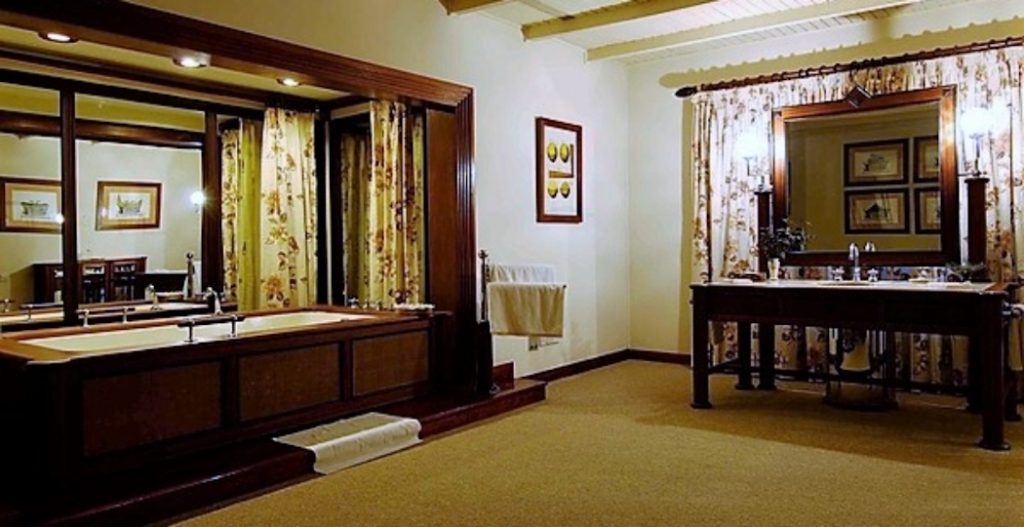 It also has two regular guest rooms with twin beds, a terrace and an en-suite bathroom. It has a buffalo cottage accompanied with 2 luxurious rooms plus a fireplace.
Ol Pejeta Safari Cottages
The accommodation here is comprised of a two by two sleeping room cottage that is to say Tatu and Mbili and a two by one sleeping room cottage that is to say Moja Chini and Moja Juu.
Moja Chini and Moja Juu are able to house two grownups with additional room for a bed for a child. Tatu and Mbili are able to accommodate four adults with additional room for two beds for children. Each bedroom has a toilet and an en suite bathroom.
If you wish to go on a Kenya safari that takes you away from the crowds especially in the peak season, then it would be a great idea to combine the Solio Ranch, Lewa Wildlife Conservancy and the Ol Pejeta Conservancy.
Safari packages that include Ol Pejeta Conservancy include our 7 Days Kenya Safari tour starting from Nairobi.