Kenya honeymoon safaris are some of the most memorable! Kenya is a magical honeymoon destination, no doubt about that. A couples' thought and desire to have a private and enjoyable honeymoon experience will definitely be fulfilled on a Kenya honeymoon safari.
7 Days Kenya Honeymoon Safari at a glance
Check the out the outlined safari itinerary for the one week honeymoon safari in Kenya that includes a visit to Masai Mara, Lake Nakuru and Lake Naivasha.
Day 1: Arrival Transfer to Nairobi
Day 2: transfer from Nairobi to Masai Mara national park
Day 3 & Day 4: Full day adventure in Masai Mara national park
Day 5: Masai Mara – Lake Nakuru National Park
Day 6: Lake Nakuru – Lake Naivasha
Day 7: Departure back home
7 Days honeymoon safari Masai mara – Where to visit?
There is no other better place to spend your honeymoon in Kenya than Masai Mara Game Reserve. The game reserve is one of the most iconic safari destinations and probably the most famous due to its big cats, and the annual wildebeest migration.
Doing these 7 days honeymoon package offers a chance to tick off the Masai Mara which is one of the 'must see' in Africa and top of the bucket list of most wildlife lovers and enthusiasts.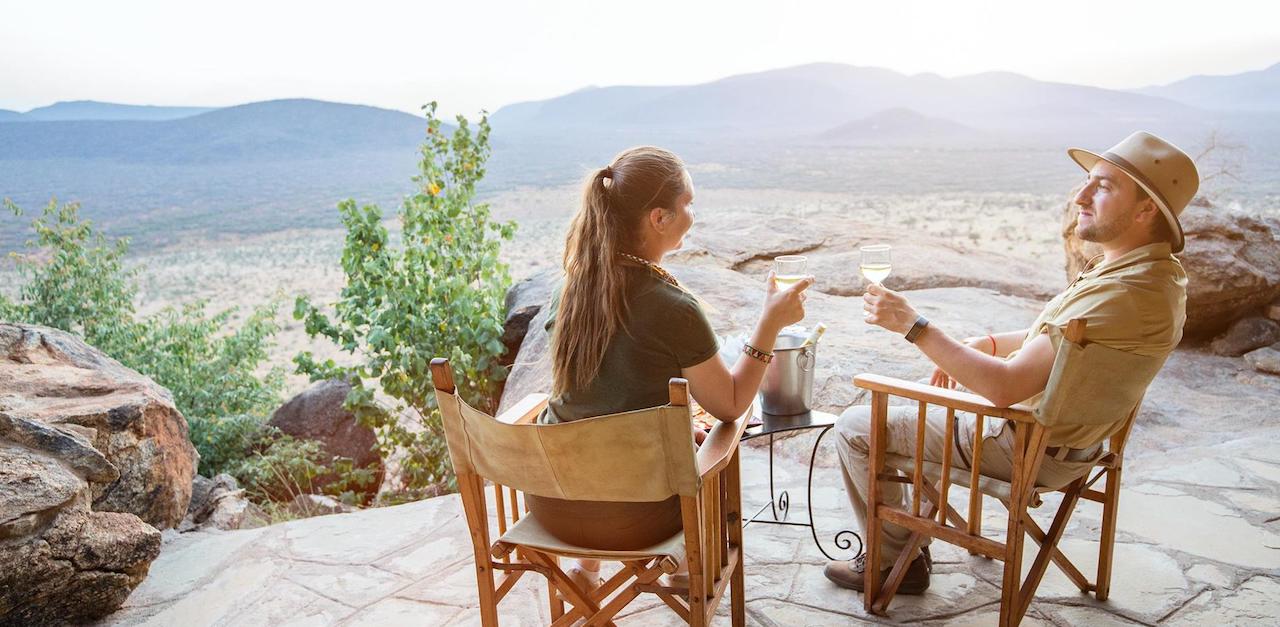 Apart from wildlife game drives in the 4×4 saf
ari jeep, Masai Mara will offer the newly weds other extras like doings private sundowners, bush breakfast, bush dinners or lunch, walking safari with Masai Mara guided with Masai warriors 'Morans'. With a little more budget you may also enjoy stargazing which is available in some few camps in the Masai Mara.
To spice up the honeymoon safari in Masai Mara, you may also choose to go on hot air balloon safari above the plains of Mara. Wake up at day break and freshen up quickly then you will be picked from your lodge / camp lodge by the Hot air balloon crew who will transfer you to the nearest hot air balloon launching site.
You will be briefed at the launch site by the hot air balloon captain before you embark on an adventure that will bring lasting memories at the end of the tour. Float above the beautiful plains and acacia trees as you enjoy breathtaking views and winding rivers, and wild animals below. The hot air balloon safari during your 7 days Kenya honeymoon safari ends with a full English breakfast with champagne celebration at the landing site.
Apart from Masai Mara, this 7-day honeymoon safari in Kenya includes a visit to Lake Nakuru National Park where you will have a chance to do more game viewing with the chance to spot the rare white rhinos, and other rare species like the Rothschild giraffes.
You will also get the chance to visit Lake Naivasha where you can do a boat safari on the lake and if you wish you may also do a walking safari in the Crescent Island or biking /cycling in the Hell's Gate. The last activity will be a tour of Nairobi City; the City in the Sun before we drop you back to the airport for your flight back home.
7-day Kenya Honeymoon safari – Where to stay?
Accommodation during this Kenya honeymoon safari will be in some nice mid range lodges and tented camps as per the published itinerary but being a private tour, we can always revise the same package to include other upgraded accommodations in case you wish for an upgrade and want to stay in more luxurious places.
It will be a private tour through out and therefore the program can be changed in anyway in order to make the tour more suitable or affordable for you. We can for example include a flight for you , for you to fly into Masai Mara on the first day of your wildlife honeymoon safari in Kenya.