If you are planning to travel to Africa for your honeymoon, this two-week honeymoon escape to Kenya for safari and beach is your best option. Our 14 Days Honeymoon Safari in Kenya & Beach Holiday is the arguably the best honeymoon you could take in East Africa because of the places that you will visit during this tour.
The honeymoon  package starts with a warm welcome to Africa in Nairobi 'the city in the Sun' where you will be picked up and transferred to one of the glorious hotels within the city and It's suburbs before you proceed North to some of the best less travelled wilderness areas in Kenya for a wildlife safari tour.
2 Weeks Kenya Honeymoon Safari & Beach Highlights
Day 1 – Arrive into Nairobi Kenya
Day 2 – Drive to Meru National park for safari
Day 3 – Full day safari in Meru National Park
Day 4 – Transfer to Ol Pejeta Conservancy
Day 5 – Full day safari in Ol Pejeta Conservancy
Day 6 – Drive to Aberdares National Park
Day 7 – Transfer to Lake Nakuru National Park
Day 8 – Nairobi – fly to Diani beach
Day 9 – Day 13: Beach stay at Diani Beach
Day 14 – Transfer to the Airport, fly back home
Two people alone in your safari vehicle you enjoy the African wilderness staying at some of the finest safari lodges/tented camps that you can find in Africa, then wind up this experience with white sands between your bare feet at the Diani beach at the Kenya Coast or choose any other beach destination in Kenya like Malindi, Mombasa North coast or further in Watamu beach or Malindi depending on your preference.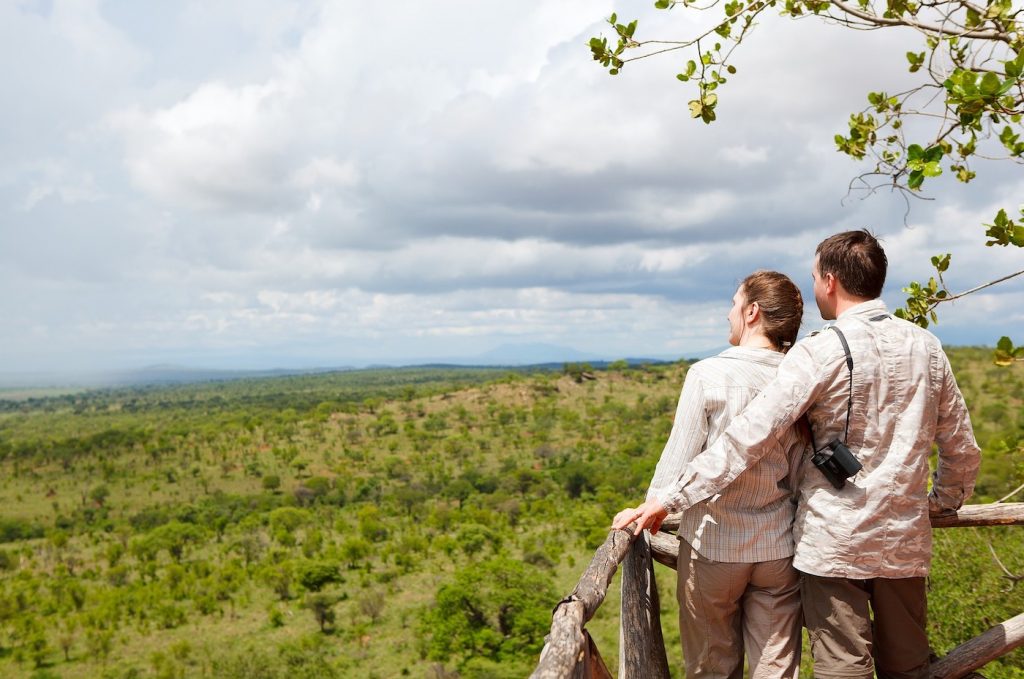 14 Days Honeymoon Safari in Kenya & Beach Holiday – Where you visit
This two weeks Honeymoon package in Kenya will take you to the wildlife parks that are 'Off the beaten track' including a visit to Ol Pejeta Conservancy, Meru National Park and Aberdares, as well as the traditional safari destination Lake Nakuru National Park. You will be driven by a private safari guide who will double up as your driver cum guide.
Activities during your 14 days honeymoon in Kenya will include game viewing in a 4×4 safari Landcruiser (customized jeeps), walking at Aberdares National Park, but also you will have the flexibility to engage in other activities like horseback safari or cycling in the Ol Pejeta Conservancy and even night game drives, activities that can be booked on the spot at extra cost.
Accommodation for your 2 Weeks Kenya Honeymoon safari and beach
This honeymoon trip in Kenya combines some of the best standard luxury lodges and tented camps during the safari part and a great beach escape for the beach extension in the Kenya Coast. You will be staying at nice lodges like the amazing Elsa's Kopje Lodge in the Meru National Park, Sweetwaters Camp in the Ol Pejeta Conservancy.
At Aberdares National Park the highlight is staying at the Treetop Hotel a legendary lodge where the Queen of the United Kingdom; Queen Elizabeth II actually stayed the night before she received news that she will be the next queen after the passing on of her father.
Your accommodation will be determined by your budget and preference because we can customize this Kenya honeymoon package to suit your needs, ideas as well as budget. We can therefore include even more deluxe accommodation if you wish for an upgrade. Get in touch with one of our travel experts for more information, free advice and customization for your 14 days Kenya Honeymoon safari and beach package!