Diani Beach extends along the Indian Ocean coast in Kenya and it is a spectacular location for a beach holiday in Kenya. It has a magnificent background of forests with the sounds of various animals serenading you that will really make a perfect destination. Diani Beach is situated close to 30 miles south of Mombasa and it feels like a true tropical island vacation instead of just a portion of the mainland. It is vast, pristine and surrounded by coconut palms. Coral reefs shield it from the massive surf and this makes for the ideal environment to snorkel, swim or float with the lukewarm waters. There are cafes as well as beachside bars where you can get some refreshments and snacks. During the evening hours, Diani offers a truly fun and entertaining experience. Apart from Diani night spots your can easily enjoy nightlife at Mombasa City which is just a 30 Kilometers distance from Diani Beach.
Top Reasons to Visit Diani Beach
1. The Exquisite Resorts at Diani Beach
The heart of Diani Beach is definitely it's resort. The resort that was constructed on the pristine white sand beach is the personage of Diani.
2. Enjoy a wide range of Water Sports at Diani
Diani Beach offers a diversity of water sports and it gathers numerous water sports fans every year. Some of the water sports here include swimming, sailing, windsurfing, diving, snorkelling, jet skiing as well as water skiing.
3. Enjoy the varied land based activities
If you would much rather prefer to stay on land, there are a number of activities such as shopping at the great shopping centres, golfing on the different golf courses plus the famous skydiving school.
4. Dive with the Dolphins from Diani Beach
Diving is very popular in Diani Beach and you can opt to take diving safaris on the local dhows such as taking trips to Kisite Mpunguti Marine Park and Reserve, the habitat of the huge dolphin colony.
5. Game viewing in the neighbouring Shimba Hills
You can get a great view of Shimba Hills from Diani Beach. Shimba Hills is a sanctuary of biodiversity where you can get the chance to see the magnificent waterfalls, sable antelopes as well as the elephants. Apart from Day trips or two days with one overnight stay at Shimba Hills, you can also take one of our Mombasa safari tours that start from beach hotels in Mombasa or any resort in Diani Beach. We can pick you up ad rop you back at your resort in Diani Beach.
What to do in Diani Beach
Explore the Diani beach
Kenya's eastern coastline on the Indian Ocean is popular for its transparent turquoise waters, numerous outdoor sporting activities as well as the sandy beaches. Diani beach is famous for its beach resort that is located 30 km south of Mombasa and it receives thousands of tourists every year.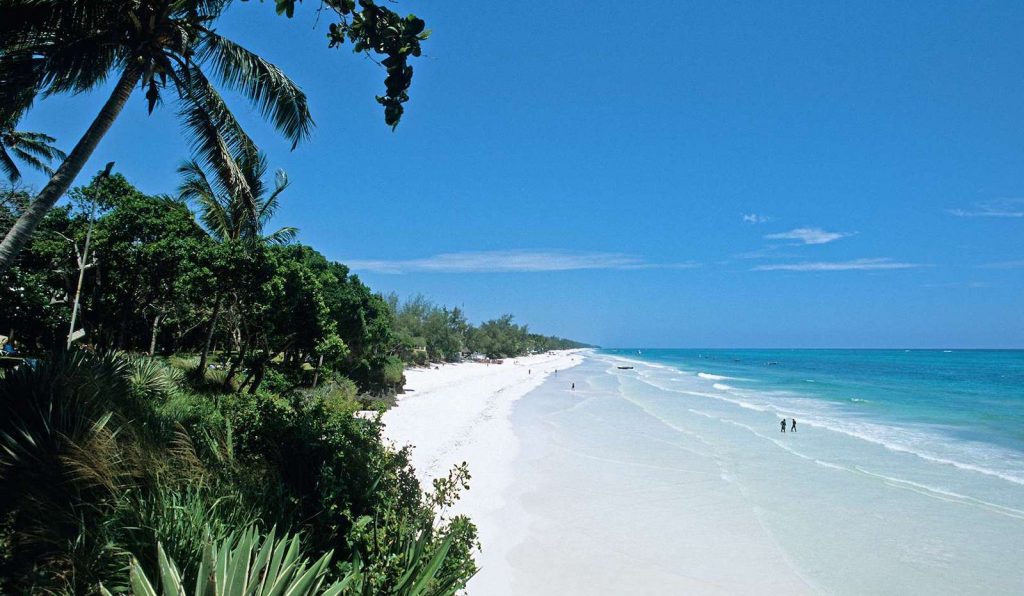 While you are at the African Paradise, you can choose to go for snorkelling among the multi-coloured reefs, try kitesurfing, swim in the shallow waters as well as diving in the deep sea canyons. There are additionally numerous restaurants plus bars that will accommodate any exotic preferences at Diani Beach.
Snorkelling at Diani Beach
Explore the 39 kilometre stretch of protected waters situated at Kisite Mpunguti Marine Park away from the coast of Wasini Island if you are looking for an amazing snorkelling experience.
The Kenya Wildlife Service is in charge of the protection of the waters to make sure the reef environment is in great shape as well as to enable tourists have a great experience while they are there. Kisite Mpunguti Marine Park is rich with aquatic life such as whales, sea turtles, 250 different species of fish plus dolphins. Note: Pilli Pipa Dhow Safari provides you with all the necessary diving equipment as well as all-encompassing guided tours around the park for tourists.
Cultural Tours
The sacred Kaya forests form a fragment of a cultural practice of protection as well as respect for the natural world sustained by members of nine distinct tribal groups within Kenya. The Kaya Kinondo Sacred Forest continues with its cultural traditions to grow in to the first Mijikenda Sacred forest to start ecotourism. This was following several years of private cultural heritage. The community leaders then chose to allow the general public into Kaya Forest with the goal that engaging with international tourists will have a positive impact on the social and economic state of the surrounding community. You can explore the community with a guided tour by one of the local as they tell you about their past as well as the importance of Kaya forest to their culture.
Visit the slave trade caves
Prior to the arrival of British colonialists in Kenya, Shimoni was majorly a village area in the south of Mombasa. During the mid 18th century, Shimoni was declared a port stop city which took part in slave trade at the coast of East Africa. The route extended from the Middle East up to South Africa making a stopover in Shimoni to use the cave holding pens to lock up the slaves. Currently, there are some ancient colonial British structures next to the cave where travellers can explore to get in depth knowledge of the impact of slave trade on the people of Kenya.
Souvenir Shopping
The heart of Diani Beach is the best place to go for shopping. You will come across a number of beautiful items such as locally made crafts, art pieces, clothes among others.
Wildlife Safari tours
Tour Shimba Hills National Reserve to get the chance to see Kenya's natural beauty, its exceptional wilderness. It sits on 300 sq km and is made up of three distinct types of terrain including expansive grasslands, coastal rainforests as well as woodland canopies that can all be viewed if you plan tours from Mombasa. More than half of Kenya's native plant population can be located at Shimba Hills National Reserve, particularly the birdlife as well as butterflies. Shimba Hills is also significant because it is a biodiversity place for the sable antelope, African elephant plus the black and white colobus monkey.
Where to eat in Diani Beach
There are a number of great eating areas around Diani's coast. If you are looking for the finest food around the area, you can make a reservation at Lymington's Bistro or you could opt for the Swahili Pot, which prepares mostly meat immersed in truly Swahili sauces.
When to visit Diani Beach
The region surrounding Diani Beach receives two rainy seasons; one starts from April until May and the second one runs from November to December. You can visit Diani from June until October since there is excellent weather during those months.
How to get to Diani Beach
Diani beach can be accessed through your private vehicle, using public transport in a bus or through a charter flight as highlighted below.
Car / Bus: You can take privately owned shuttles that travel from Moi Airport to Diani Beach however bus connections may last for up to six hours to drive from Nairobi city
Plane: If you are taking a flight from overseas, you will probably land at Moi International Airport in Mombasa which is close to 30 miles from Diani Beach.
The airports next to Diani Beach include MYD Malindi, MBA Mombasa Moi International plus UKA Ukunda. The airlines that serve Diani Beach include Austrian Airlines, Delta, KLM, Qatar Airways, United Airlines, Air France, Lufthansa, plus Turkish Airlines.
Where to stay in Diani Beach
Diani Beach provides luxurious accommodation facilities ranging from the luxury facilities, mid-range and budget one such as the Sands at Nomad Hotel, Lantana Galu Beach, Southern Palms Beach Resort, Baobab Beach Resort & Spa plus Diani Sea Lodge.