This is one of our most popular 3 days Kenya safari staying in a luxury lodge or tented camp. This Three day Kenya wildlife safari adventure takes you to the iconic Amboseli National Park for the best of wildlife viewing experience, bird watching if you are an avid bird watcher or enjoy the views of the Amboseli elephants with the majestic Mount Kilimanjaro  behind them.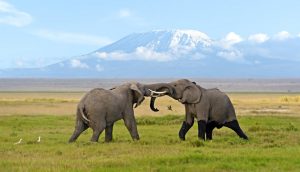 The safari package starts and ends at the capital City; Nairobi where our safari guides can pick you up and drop you at any hotel within the City. Incase you are arriving early in the morning in Nairobi we can always pick you up straight away from the airport and head straightaway south towards the Amboseli National Park without entering Nairobi's CBD and that way avoiding any traffic snarl ups. Ordinarily when you leave in the morning from Nairobi you will arrive at Amboseli for lunch with game viewing on your way to the lodge especially if staying at a lodge or camp inside the park.
Location of Amboseli National Park – 3 days Kenya Safari
Amboseli National Park is located on the slopes of Mountain Kilimanjaro – the highest, snow capped mountain in Africa and still the number one free-standing mountain in the world. This is area is well known as home to the Maasai people who are tall, proud nomadic warriors with mythical battling skills, strong, brave and very courageous.
They are well known in the world for having skills of defending themselves from wild animals.
3 Days Kenya Safari Amboseli; What to see?
In addition, the plains of Amboseli on the foot of Mount Kilimanjaro and the marshes in park have attracted many wild animals, including over nine hundred elephants, masses of wildebeests, the big 5 (lions, rhinos, leopards), antelopes, zebras, hyenas, elands, monkeys, giraffes and so much more.
Apart from wildlife viewing, Amboseli plains are home to the famous semi-nomadic tribe; the Maasai and we can arrange the visits to their villages where you can learn alot of about their culture and traditions.
3 days Kenya Safari to Amboseli National Park – Trip Outline
Day 1: Transfer from Nairobi to Amboseli National Reserve
Day 2: Explore Amboseli National Reserve (Full Day)
Day 3: Transfer from Amboseli National Reserve to Nairobi
This package can be done staying at luxury or mid range lodges or you can also stay at the budget lodges available around the park. Do not hesitate to contact one of our safari experts if you need any further information or customization of our 3-day Kenya Luxury safari in Amboseli!