Kenya's Lewa Wildlife Conservancy is a prize winning example of the great conservation works by the local community. Apart from providing a number of alternate safari activities, this wildlife conservancy is an excellent sanctuary for vulnerable Black Rhinos. Formerly a ranch for cattle, the Lewa Wildlife Conservancy through a colonial settlement scheme during the 1920s was set up by the Craig family. Due to poaching of the black rhinos whose number had declined to below 300, a portion of the ranch was transformed into a home for them during the 1980s. The conservancy was in 1995 established and the region extended to integrate a section of Ngare Ndare Forest Park plus the entire farm.
For several years, Lewa Downs has been a unique tour destination although it became popular in 2010 when Prince William of Britain asked for Catherine Middleton's hand in marriage. Across the world, it is regarded as the leading conservation success tales in addition to being an example for tourism that is environment friendly. The Safaricom Marathon another event celebrated every year to raise funds for environmental projects for the conservancy has also made it popular. These are some of the events that happen at Lewa apart from just Kenya safari tours.
What to do and Attractions in Lewa
Walking safaris in Lewa Wildlife Conservancy

Horseback safari in Lewa Conservancy

The best place to view the white and black rhinos.
Engage in educational trips on the conservancy's daily operations,
Game drives (wildlife viewing on a 4×4 safari jeep)
View the Grevy's zebras.
Bush dinners
Horse rides
Engage in Camel plus horse riding across the tropical savannah.
Night game drives M
Maasai Cultural Village trips
Safari Experience in Lewa Conservancy
You will be accompanied by a tracker and a ranger with lots of experience during your game drives in the company's specifically suitable safari vehicles to look for wildlife inclusive of the Big 5 plus game viewing that is remarkable. The reticulated giraffe, the vulnerable Black and White Rhino population, uncommon animals like the Grevy's Zebra are some of the captivating wildlife dwelling in the conservancy.
The freedom you get at the Lewa conservancy to carry out various safari activities for example taking bush walks in the company of area guides who assist you in understanding the bush mysteries has made it one of the conservancy's best entertainments. You can hang out at some of the places with a view of the waterhole in case you are searching for more leisure time. Horseback as well as camel back safaris are optional activities provided by the lodges.
You can search for several bird species as well as Black and White Colobus Monkeys at the Ngare Ndare Forest Park. The Conservancy engages actively with the community plus visitors are strongly urged to engage in both community and conservation projects.This at most times is an excellent way to be educated about African life and also involve oneself in local norms. Any of our Kenya safari tour packages that we have listed on this website can be customized to include safari in Lewa if you are interested in seeing Black Rhinos, walking safaris in Lewa or horseback safari experience in Kenya.
Climate of Lewa Wildlife Conservancy
There are warm days with temperatures increasing to 30°C utmost that are comfortable with humidity that is low and cold evenings with comfortable bedspreads. November and May are the months with the most rainfall with an annual 360mm average.
Best Time to Visit Lewa Wildlife Conservancy for safari
The Lewa Wildlife Conservancy is among the tourist destinations in Kenya that offer great wildlife viewing all year round, however, because of the heavy rains, this can interfere with tourism in this part of the country. Nearly all the accommodations are closed during the wet season when the roads are almost impassable and that is especially in the months of April and November.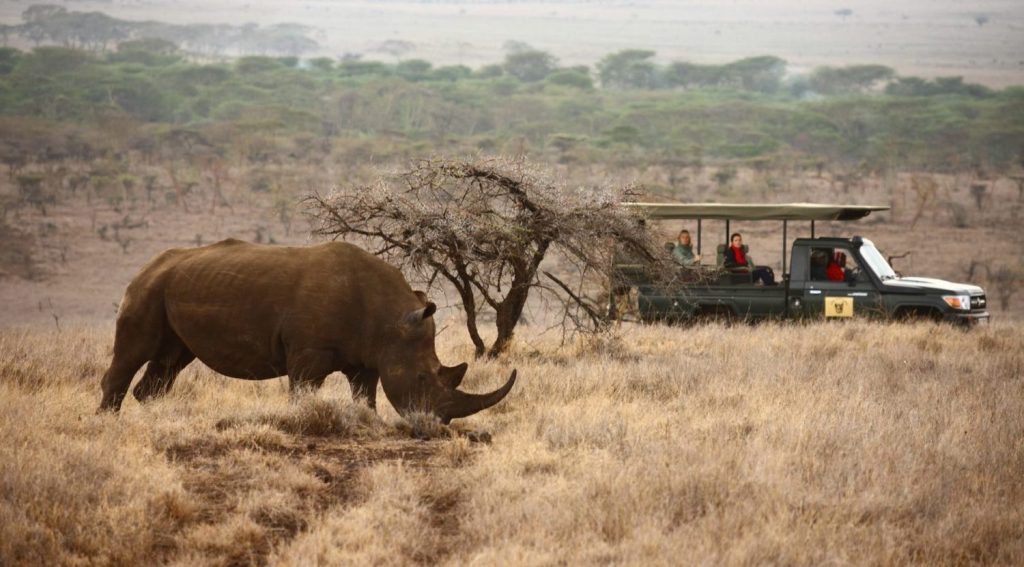 The best time however to visit is during the dry season that runs from the month of June to September. From June to October
The High tourist Season begins in June to October and then December to March. At that time, most of the accommodations are very busy
The Low tourist Season begins in April, May and even in November with a number of lodges closing then
The Best Weather can be enjoyed from June to September as well as December to February when there is minimal rain
How to get to Lewa Wildlife Conservancy
Close to the Laikipia plateau, the Lewa Conservancy is situated South of Isiolo town. The drive on Thika road from Nairobi takes four hours to get to the conservancy.
To get to Lewa Downs, the most convenient way is by using an aero plane and taking a flight straight to the private airstrip of the conservancy from the Wilson airport in Nairobi. The flights are scheduled on a daily basis.
With the availability of  domestic bush flights we can easily combine the Lewa Wildlife conservancy safari with a visit to the most famous safari destination in Africa; Masai Mara Game Reserve.
Where to stay | Accommodation in Lewa Wildlife Conservancy
There are nine different accommodation facilities found across the Lewa and Borana region. This diversity offer guests a great range of options in terms of where to stay, enjoy utmost comfort and luxury, uniqueness, adventure, great food, and view wildlife. Each of these promises a unique and memorable experience to its guests.
Within Lewa Wildlife Conservancy, Lewa Safari Camp dwells there with spectacular views that go up to Mt. Kenya. Accommodation is provided in thatched camped rooms. The major lodge is enclosed with breathtaking gardens with a view of a swimming pool.  Uncover the conservancy's incredible wildlife on horseback and camelback tours, guided walks and game drives. Discover the amazing wildlife of the conservancy on game drives, guided walks and camel and horseback safaris. Next time you want to do your Kenya Safari in style, we will arrange for your stay and horseback safari in the Lewa Wildlife Conservancy!