Lake Bogoria National Reserve is situated in the South of Lake Baringo and is among the Great Rift Valley's secret treasures you can explore on your safari in Kenya. This lake which is alkaline in nature is marked with geysers, spontaneous hot springs and steam jets thus making it the main tourist attraction of the reserve. From the year 1973, when this lake received the status of a national reserve, it has been being managed through a joint agreement among the Baringo county and the Kenya Wildlife Service.
Kenya's Lake Bogoria is part of the few Rift Valley Lakes that are celebrated even though it offers the same amount of attractiveness and stimulation that different regional spectacular lakes provide.
From the early seventies, Lake Bogoria National Reserve has remained as a conserved area and because of its uniqueness and significance, it has been proclaimed as a Ramsar ground. The lake has a length of thirty four (34) kilometers, a width of three and a half (3.5) kilometers and I should mention that it is quite a shallow lake with depth of around ten (10) meters.
On a Kenya safari tour, Lake Bogoria can easily be toured together with Lake Baringo, Lake Nakuru,  as well as safari tours that would take you to Masai Mara for the wildebeests migration safari if you travel in the right time.
What to do in Lake Bogoria National Reserve | Top attraction
See millions of Pink Lesser Flamingos on Alkaline Lake Bogoria
This lake has the perfect conditions to support the survival of flamingoes and today it is a sanctuary to the world's biggest lesser flamingo population. The alkalinity of the lake facilitates the growth of blue-green algae that in turn are a source of food to the flamingoes. Occasionally, the lake attracts big flamingo numbers that are close to two million which form an astonishing wave like pink blaze while they are feeding. Because of the unique environment required by these bird, This scenic view of millions of striking pink flamingoes is solely enjoyed in Kenya's rift valley lakes and thus cannot be duplicated in any other part of the world.
Bird Watching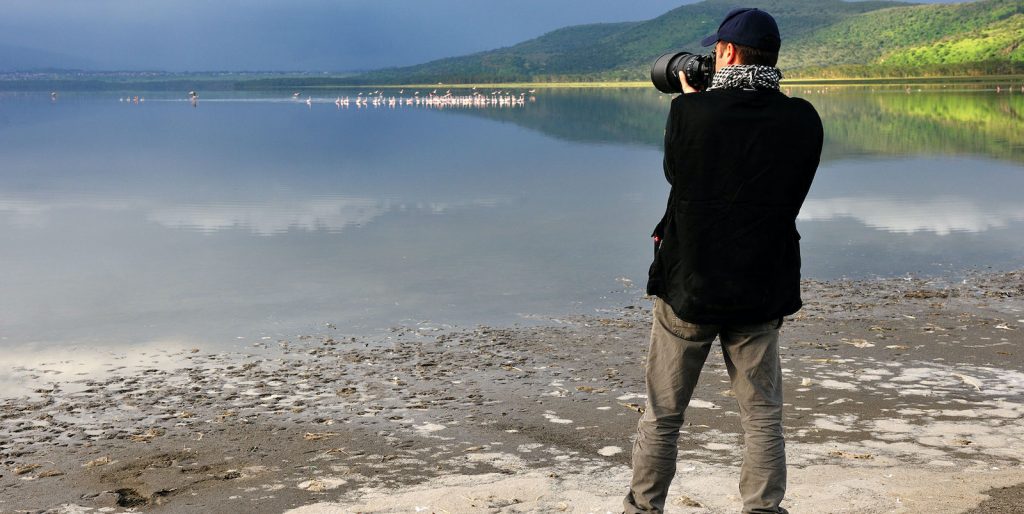 Besides the pink flamingo, Lake Bogoria National Reserve being a water paradise with bushland and forestland supports a large profusion of other bird species including the African fish eagle, Grey crowned crane, Hamerkop among many others which can best be seen on a guided bird tour.
Game Viewing
the forested areas as well as the bushlands in this reserve offer habitat to different wildlife among which are numerous tortoises, spotted hyenas, zebras, warthog, baboons, impalas, caracals, buffaloes and dik dik.
Hot springs and Geysers
The surface of this region is geologically created from the previous volcanic rocks back in the era of Miocene-Pleistocene. There are two hundred water springs near Bogoria with the temperature of their waters ranging from 39-85 Degrees Celsius. Majority of these springs are found in close proximity to this lake. Generally, these hot springs have an elevated carbon-dioxide substance which is the reason for the fierce boiling nature of these springs.
Many geysers can be found gushing forth from here and are created from openings in the surface of the earth as a result of volcanic activity. There have been a number of massive hydrothermal changes that have taken place as a result of the water level fluctuations that have been often occurring in Bogoria Lake for the last ten years. Just the smallest variation in water levels in this lake that is not so deep can affect the behavior of these geysers. A few of the geysers that were from 2001 to 2005 active had by 2006 grown into frail steam vents /hot springs because of a decrease in the water levels that were as a result of drought. There was an increase in activity of different springs as well at the time. Similarly, there was an increase in geyser activity on the western shore of the lake at the Loburu delta. There was an eruption from KL30 one of the geysers that occurred at a regular interval of forty five minutes until it got to a height of five meters. This dynamic KL30 is possibly Africa's tallest natural geyser. During the 2007 period, geyser activity was repressed as well as that of KL30 because the area was waterlogged.
Best time to visit the Lake Bogoria National Reserve
Throughout the year, Lake Bogoria National reserve provides holidaymakers an opportunity to explore the geological bush of Kenya and the favorable temperatures and seasonal climatic seasons make it an all year round destination. In most cases the wet and dry seasons in this reserve reflect what is climatically occurring in the different parts of Kenya. The reserve during some years experiences unusual longer rain weather patterns in months of August and July that are uncommon.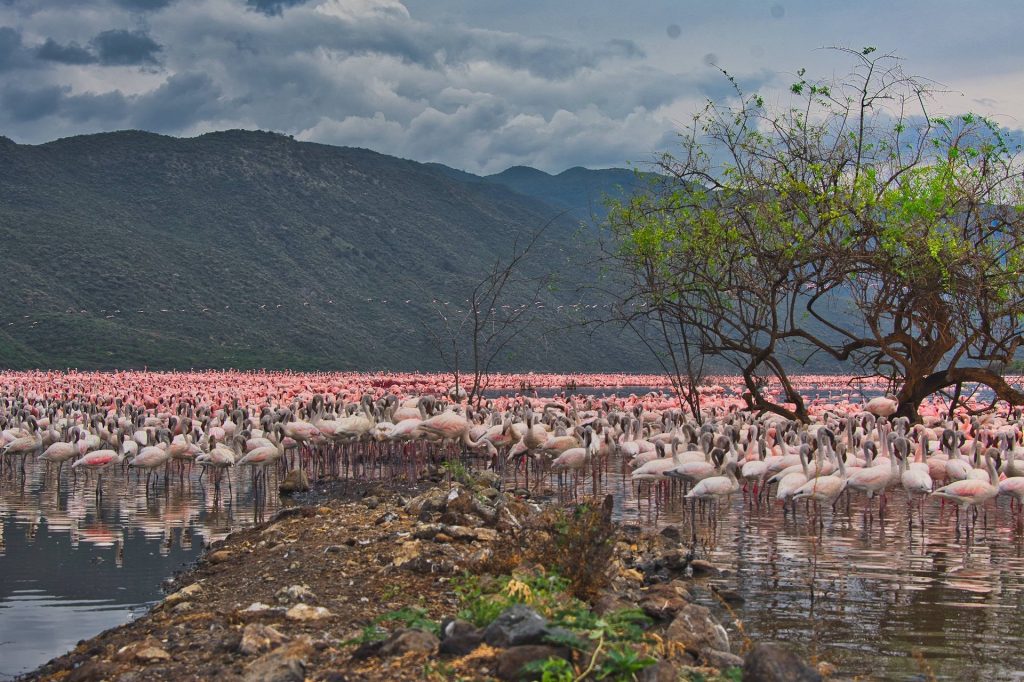 The perfect time we recommend for you to take a Kenya safari to Lake Bogoria is from the month of July to October because at this time of the year most of the area is cool and dry.
Long Dry Season: this runs from the month of July to October and it is generally dry and cool. The low levels of rainfall reduce the water levels and sacristy of waterholes in the reserve which results in the wild animals usually gathering around some of the few remaining clean watering holes to access drinking water. Right around this time, there is a break from summer school thus the number of visitors increases with huge arrivals of excited families. It is important to note that the temperatures drop low especially within the areas on a high elevation within the reserve during this time. So in case you are planning on having your holiday at this time of the year, our advice is that you carry a warm sweater or a jacket with you more so if touring places on high altitudes.
Short Rainy Season: There is a brief rainy period in November to December that presents as scattered rains as the month of October comes to an end. The moisture that comes from the rains in tropical Kenya evaporates rapidly. The precipitation should not hinder your activities as the walking trails and roads can still be accessed.
If you are planning to have a holiday between Christmas Eve and New Years, a small rise in the number of tourists should be expected because this period for vacations is very popular for both international and Kenyan resident tourists to tour this lake.
Short dry Season: The brief arid-dry seasons are in January and February with a bit of rainfall on some days.
Long Rainy Season: The prolonged rain periods start when March ends lasting up to June. With the heavy rainfalls comes fresh life in the reserve in terms of newborn animals specifically the antelopes and also the grass plain becomes green and verdant again. The conditions of this alkaline lake are only affected in case the levels of the water are very high thus causing a decline in the road and trail conditions. During such times the geysers could be submerged beneath the lake surface.
The elevated levels of water alter the lake chemistry which results into changes in the number of food resources within the lake, and as a result, the huge flamingo numbers that make this lake popular may be absent. Fortunately, according to the historical records here, the flamingoes normally arrive from late-August to the start of October when the level of water in the lake is low just as the short rains are about to start. We have also a few tips and guide for arranging a Birding safari in Kenya.
Where to stay in Lake Bogoria National Reserve | Accommodation
The only suitable lodge in this area that is effective and can satisfy the needs of a foreign tourist at an affordable cost is the Lake Bogoria Spa Resort and it is ranked as a three Star Safari lodge. This means that the standards you will get in terms of food, amenities, room quality, guide and service will be at a proper level. Residing at this resort gets you in close proximity with the numerous marvels of the lake as well as the rich birdlife, different land animals, the shoreline, geysers and so many others. Your accommodation choice can be from any of 30 junior suites, 37 cottages, 22 standard rooms, 20 backpacker tents from the personal campground of the resort or the 6 executives. Your room will be well adorned and very clean to put your thoughts at ease for a peaceful slumber with amenities like a minibar, an en-suite bathroom that has a shower and also a beautiful scenery from your bedroom window, a flat-screen tv that has satellite channels and good air conditioning.
Get in touch with us on more information and advice on how to lan your next birding safari in Kenya, visiting the Lake Bogoria.