Mombasa is the number one tourist destination in Kenya. It is situated on the Eastern coastline of Kenya next to the Indian Ocean and it is famous among tourists for its spectacular beaches. Mombasa has an assorted aquatic life, luxurious hotels as well as a very hospitable environment. Mombasa has a tropical climate throughout the year and it is suitable for travellers of all ages offering a wide array of activities to enjoy on your Safari Holiday in Kenya.
Mombasa was established between the 1st and 5th century by the ancient Swahili people and was subsequently governed by them. In the centuries that followed, the Arabs, Portuguese as well as the British settled here as well. Today, when you visit this coastal town, the culture of the people you will see is a total reflection of its history. Ancient architectural remains such as Old Town, Fort Jesus plus the historic Portuguese fort are popular tourist destinations impacted by Mombasa's trade culture as well as Islamic and Portuguese culture.
Mombasa is a very safe city that is immersed in history however it also has a captivating, sophisticated and commercial port town. This city is an island joined to the mainland by ferries and bridges. It has a great view of a wide harbour where trading ships mix with the local sailing dhows. Mombasa's essence can be located in the modern old town alongside the Arab architecture as well as the small winding streets. The air around here is usually thick with the fragrance of spices.
Best things to do while you are in Mombasa
1. Visit Fort Jesus
Fort Jesus is among the main and popular tourist destinations in Mombasa. Fort Jesus was constructed from 1593 to 1596 by the Portuguese who had settled there. It was declared a UNESCO World Heritage site and its popularity assembles a large number of people particularly history fanatics. This building of Fort Jesus was created by Cairati, an Italian architect. The set up of this structure is a perfect illustration of the military architecture of the Portuguese, particularly during the 16th century.
2. Old Town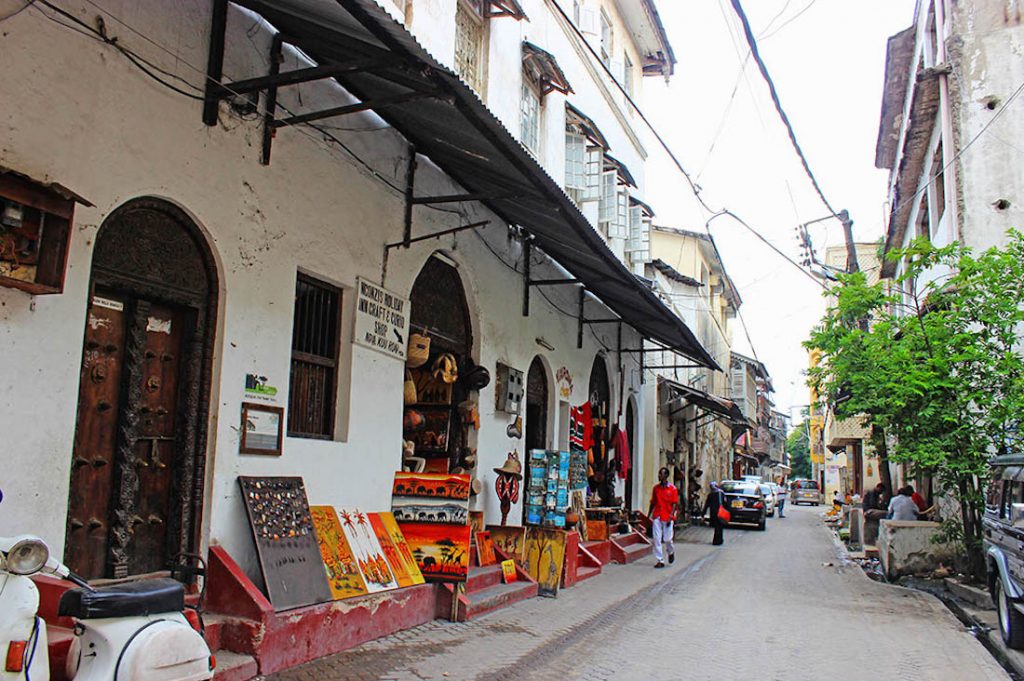 Old Town is among the most popular places in Mombasa for travellers that is majorly a reminder of the old days when the Portuguese governed the city. The locals in this area are mainly of Arab, European plus Asian descent and the amazing architecture really exhibits their distinct cultures.
If you love tasteful and rare architecture, you will definitely love visiting the Old Town since it is made up of mostly narrow streets, ornately carved doors as well as balconies. You will enjoy shopping while here.
3. Snorkelling in Mombasa Marine National Park
Mombasa Marine National Park is among the most vibrant offshore reserves of Kenya and is one of the main tourist sites among tourists. The Mombasa Marine National Park conserves mangroves, coral reefs, seagrass beds as well as sandy beaches. Thrill-seekers will have the time of their life at this national park since there are a number of other activities you can indulge in such as diving as well as snorkelling. You will get to see the stunning unique aquatic life here. The Mombasa Marine National Park can be reached through some of the beaches such as Bamburi, Shanzu as well as Nyali.
4. Go Souvenir shopping in the Maasai Market
Treat yourself to a great shopping experience by taking a trip to the stunning Masai Market in Mombasa that might overwhelm you with multitudes of great items that are suitable for all visitors. At the Masai Market, you will be able to come across an assortment of magnificent local trinkets as well as keepsakes; you will have to convince yourself not to purchase all of them. There are amazing wood carvings, rare paintings in addition to so much more in this market. Masai Market is situated at Nakumatt Nyali's parking lot and is the perfect place for you to go for shopping.
5. Game Viewing in Haller Park
Haller Park which is situated in Mombasa is an ideal place to visit especially for people that love animals. Haller Park was previously referred to as Bamburi Nature Trail. The project was launched during 1971 and currently is among the most fascinating tourist sites that is a nature reserve as well as a home to numerous wild animals. Some of the wild animals that reside in Haller Park are hippos, zebras, giraffes plus cape buffaloes. It has also documented over 160 species of birdlife.
6. Enjoy Children tours in Mamba Village
Mamba Village is located in Nyali and is among the biggest crocodile farms in East Africa. Mamba Village has tours everyday to take visitors through the farm as well as a different play area for children to have fun when they visit the park on a Family Safari in Kenya so that they keep entertained. It is also an excellent place to spend the weekend for both tourists as well as the locals. The peak of your trip to Mamba village will definitely be the meal time for the crocodiles when you get to see them wrestle each other for the food.
7. Visit the Historical ruins at Jumba La Mtwana
Jumba La Mtwana is famous for being a Swahili destroyed village of Mombasa that is secluded in Kilifi County away from the city. It is a beautiful tourist site that is made up of four houses, a tomb and four mosques.
It is very obvious that this area was once a vibrant place and was occupied mainly by Muslims. Jumba La Mtwana is situated very close to the Indian Ocean and stretches for about 250 metres inland. It is a truly fascinating ancient site.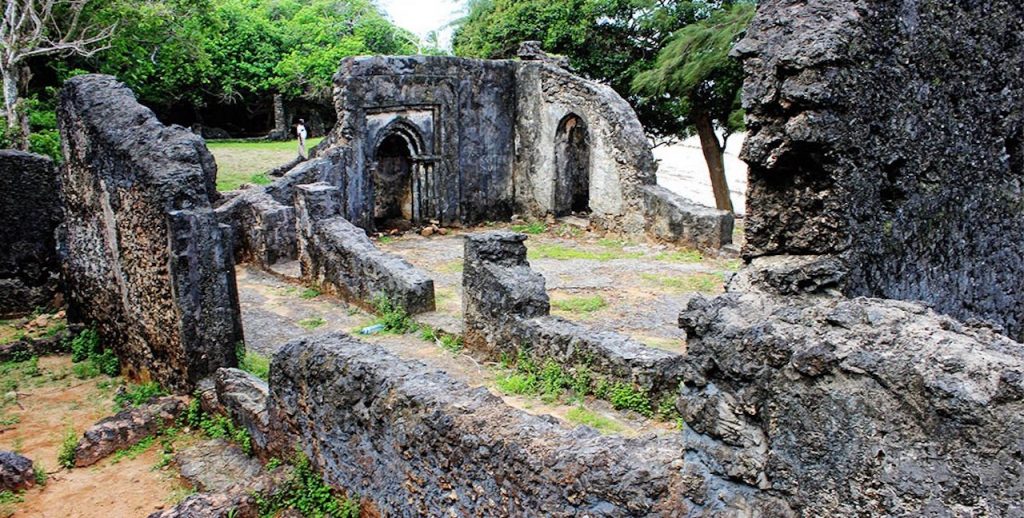 8. Enjoy the cosy beaches on the North Coast
The north coast beaches in Mombasa are definitely a must-see when you visit. The north coast beaches are very popular for being much more vibrant than the beaches on the south coast of Mombasa. There are exceptional palm-lined beaches that have beautiful turquoise water, coral reefs plus a variety of water sports for all types of people. While at these beaches, you can be able to see the Mombasa Marine National Park. You will make your first stopover for the North Coast Beaches such as Nyali Beach, and then proceed to Bamburi then finally Shanzu.
9. Sun on the South Coast Beaches
The South Coast Beaches in Mombasa are the true embodiment of extraordinary natural beauty. The crystal clear seas roll against the magnificently sun burned beaches of Mombasa which also have rainforests endowed with a diversity of birdlife and wildlife. Shelly beach is famous for being the nearest to Mombasa on the south coast, then Twi Beach and finally Diani Beach in that order.
10. Mombasa Go-Kart
For those that love karting, you will definitely enjoy spending time at Mombasa Go-Kart. You will have an amazing experience with people of all ages. Mombasa Go-Kart is filled with so many activities that you can take time to take part in. The concrete track is smooth which is ideal for a Bobcat excavator, go-karts as well as off-road buggies. After spending your day having fun, you can stop by for lunch at the restaurant. There is also a huge play ground for the children so that they do not get bored.
11. Check out the beautiful Mombasa Tusks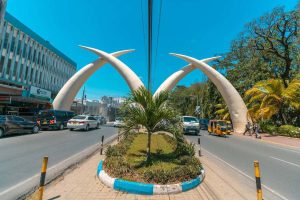 Mombasa Tusks is popular for having one of the most renowned landmarks in the whole of Mombasa. The tusks were constructed to celebrate the visitation of the Queen of England to Mombasa in 1952. These tusks are distinctive and rare and were built using aluminium. These tusks welcome you into the centre of Mombasa. These fascinating tusks create the letter 'M' for Mombasa. Tourists will come across numerous banks, markets as well as shops around this place.
12. Bombolulu Coast Workshop and Cultural Centre
Bombolulu Workshops is made up of four distinct sheltered workshops, a restaurant plus a cultural centre. It is a scheme by the Association for the Physically Disabled in Kenya. Visitors to the Bombolulu Workshops will be entertained by the spectacular dance performances that take place here. The visitors can also get the opportunity to tour some of the truly magnificent traditional homesteads in Kenya. The tourists can also attend the workshops at Bombolulu and buy a few of the beautiful art pieces including leather crafts, wood carving, and textiles.
When is the Best Time to Visit Mombasa
Mombasa has a somewhat constant climate all year long and similar to other tropical areas, Mombasa has higher temperatures and is more humid in relation to other towns in Kenya such as the capital Nairobi.
The recommended time to tour Mombasa is in the hot months of December to March but if you can handle the colder evenings, you can also visit during the cold season from July to September. Mombasa receives more tourists during the warm months since they are convenient for beach activities and water sports. During the months of July to September, you can visit Mombasa and have a great time since it is warm and there is less humidity. If you are travelling during this time, it is recommended that you carry some warm clothing since temperatures drop a little bit in the evening and after the rainy season from April to June the sea might be a little bit rougher. Either way, during these months, all the activities that usually take place are ongoing and numerous travellers visit Kenya since it is game viewing season in the area.