I know that for some people who have not had a chance to visit the African continent before, they could have been told stories of how a Kenya family safari went wrong done in Africa! it's no surprise that such stories could actually make you hold back in organizing a holiday for you and your family, however I am glad to inform you that Kenya offers some of the safest and leading safari destinations in the world.
In 2017 Kenya which is home to some of the most popular and finest tourist destinations in the world was selected as the best Safari destination for two consecutive years. Destinations such as Diani Beach have been awarded as the best beach destination for four (4) consecutive years since 2014, in 2017, the Leopard Beach Resort & Spa found in Mombasa was voted as the best family resort whereas the Masai Mara National Reserve for three (3) continuous years has been awarded as the best Nation Nark on the continent.
Due to the above important evidences, please erase the bad history and mentality that people have tainted about the Africa continent and seek information from those who have been on a family safari in Kenya. Believe me, you will be amazed at the good reports they will give you about their experience.
Why bring kids on a Kenya safari while they are still so young?
The reason is that it is good to make the children explore other people's cultural-beliefs and practices when they are still young. by visiting places like The Giraffe Manor, your children will get an opportunity to enjoy up-closes encounters with several wildlife especially the giraffes that will reward them with lasting memories.
it's for that reason that holidaymakers are advised to make a comprehensive search on all the necessary information related to a family safari in Kenya such as what to pack, when to go and what to do among many others.
In this article we bring you some of the best tips you should follow while planning your safari that will enable you enjoy your family safari in Kenya.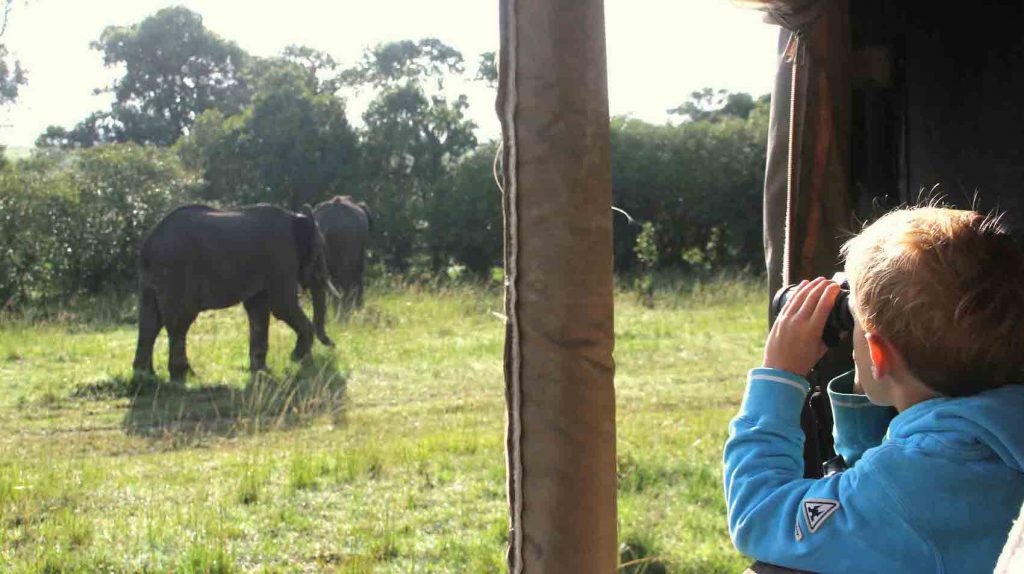 First and foremost, have activities pre arranged together with your family members.
This is one of the ways of doing away with worries or stress during your safari. It is recommended that you make a compressive research on the different activities you may want to engage in as a family during your holiday and later consult with us for further assistance in planning. This safari can be interesting to all probably when pre-arrangement are made together as a family and that way people will know what to expect and have a choice on which activity to engage in.
In case among the top activities you wish to engage in is viewing the Wildebeest Migration then we recommend that you organize to travel in Kenya between the month of July and October. It is extremely remarkable and interesting when you watch close to two million animals including wildebeests and zebras rhythmically match from Kenya's Serengeti national park to Masai Mara reserve in Tanzania. These animals cross with care in a way of dodging the hungry crocodiles in the rivers which may eat them
Most of the national parks in the country including the Masai Mara and Amboseli, offer nature walks led by guides that greatly help children to study the surrounding environment and wildlife.
Some few camps like loisaba found in Laikipia, horsebacks and camelbacks are used as the means of transport for the tourists especially young children during the nature walks. This is to help them have a better observation and more enjoyable study of the surroundings. Possibly the only challenge is for the young children especially those below seven years may refuse to step down from these animals back.
In case one is interested in watching wildlife from an aerial view, the best thing to do is use a helicopter. Kenya has several companies for example tropic air Kenya which offer helicopter tours to the most popular tourist destinations in the country like the deserts found in the northern part of Kenya, Mount Kenya and Masai Mara.
Visiting the Giraffe Manor found in Nairobi will offer you an opportunity to have up-close encounters with the giraffes such as sharing breakfast with them or even a surprise kiss from them on your cheeks. Here, the kids will also get a chance to learn some interesting facts about the African Wild dog one of the most underestimated predators on the continent.
In case you are interested in having a good beach holiday, Kenya still is the perfect place to go.  This is due to the fact that it has wonderful and attractive beaches like Diani, which has been voted as the leading beach on the continent of Africa for several years consecutively. So as soon as you get there, the experience you will have will enable you understand why it ranks on top.
This extended beach has pure white sand, and it is surrounded by beautiful green grass, a verdant jungle and very clear waters on the other side. Just have a relaxed walk on the beach without shoes and as kid enjoy playing in the sand, there are beach beds where adults can unwind as they sip a drink or read a book.
So many activities are there to be enjoyed by tourists during a family Safari in Kenya when in the country such as taking running a marathon an activity which can be enjoyed by all family members. All you need to do is ensure that your safari dates match with such functions.
Inform the Kids What to Expect on a Family Safari in Kenya
When it comes to family holidays, most focus should be put on the kids' interests. In contrast to people's negative attitude towards wild animals, they cannot cause danger to people until they are disturbed. Therefore, when there is good behavior between the children and adults, and you adhere to the rules and regulations from the tour guide, believe me you will have a very rewarding experience with Africa's wildlife.
Parents should explain to their children what to expect prior to departing for the safari. These children may happen to see a lion (the king of the jungle) relaxing however you should inform them that they are not allowed to yelling, scream or crying as such noises provoke it. Even the elephant gets more furious with such sounds. Therefore, teach them earlier to avoid making noises to avoid disturbing the animals during the game viewing.
Safari Desire prides in a team of very reliable, highly experience and knowledgeable tour guides you have be trained and are dedicated to ensure that you and your entire family not only have an enjoyable experience in Kenya but a safe one as well, so always follow their advice.
Some grown-up children sometimes love updating their social media, however the internet connections in many national parks and safari camps are normally slow. Inform them about this earlier to avoid frustration when failure to get connected online happens.
One of the benefits of Kenya is that there is high speed internet connection especially in the not so remote areas; therefore, connecting with friends via social media is easy. However, due to the many activities to be done on this family trip in Kenya, I don't think they will get enough time to attend to their facebook
In the month of January and February, Kenya is quite hot therefore, when preparing your luggage, do not forget the sunny attires not leaving behind the heavy guards because the evening or morning which are the best time for taking game drive, mosquitoes can become a problem. Don't forget your insect repellent as well.
What food to eat on your Family Safari in Kenya
Now, Africa, in general, is not considered a foodie destination, but that is only because most people have not been here. To start you off after your first game drive or Kenya balloon Safari is a bush breakfast, which gets its name from being served in the wild.
Africa is not regarded mostly as a destination with a variety of food due to the fact that many people have never been in Kenya. may be to begin with, after your morning adventure of game viewing on a game drive or Balloon safari, you will enjoy a nice bush breakfast (served in the wild).
A Classic breakfast includes a variety of food that you will be familiar with back at home, plus several fresh fruits, in addition to nice tea (chai) and freshly brewed coffee. Champaign breakfast is also served for those from taking a balloon ride.
It is certain that people get hung throughout the extended period the game drives in Masai Mara. Nevertheless, our tour guides will avail you with nice freshly made fruit juice, beef and mshikaki.
The African continental Dinner normally comprises of a four to five courses. Most of the lodges are aware of children being selective eaters, so don't worry because they will be taken care of. You will be provided with a menu, for the following day so you can discuss the food with kids as well. In case of any special dietary needs please inform them earlier.
Where to Stay During Your Family Holiday in Kenya
Lodging is surely the greatest serious section that one should pay attention to when preparing to have a family safari with children in Kenya. There is need for you to reserve a place that will allow you keep watch on your children while experiencing your faraway destination.
Accommodation in tented camps with no fence is likely not to be favorable for you as a family probably because children move aimlessly with no direction. Therefore, fenced accommodations are the best option. In addition to that, these lodges have rooms that are interconnected rooms which will offer parents comfort as they can easily see or hear their kids in the next room.
Please note that some accommodations such as Treetops found in Aberdare national park or the Serena Mountain Lodge found in Mount Kenya National Park which do not allow children below six years of age. Therefore Contact Us to help you get the most favorable accommodation for your kids.
Some lodges and hotels have prepared activities for young guests which are of a huge advantage. These activities include, baby pools, nature walks, early meal-times, board games and others. Such kind of accommodations is favorable for the children due to the fact that they do replace repetitiveness of game drives with number of tasks.
Looking at El karama Lodge found in laikipia for examples, it is perfect and wonderfully and has particularly designed for young tourists various activities like making sculptures using clay, keeping travel diaries, tracking different animals led by guides, fishing using hand lines and so on.
Which Destinations should you Visit?
There are some Kenya family tour packages you will find online described as 'Perfect for second timers'. We recommend that you skip such as they are specifically made for people who have visited the country before. There are some national parks which are specifically for people who are going there for the second time due to their large size and rotating around them the entire day with children may be wastage of time as you may not see all the wild animals. This will get the kids very bored, frustrated and tired ruining your safari experience.
For your first family Safari in Kenya, go ahead and give a chance to Masai Mara. Though it's congested, there is wide room for Mother Nature. In order to see various wild animals, you just have to manage time well in order to dodge the masses of people. In this way, you will be able to view several different animals including the big five.
There are some smaller conservancies which also favor children which you can regard as another option For example Ol pejeta, Loisaba and Lewa which are situated within Laikipia area in northern Kenya. To add on, Ol Pejeta Conservancy is habitat to more than one hundred rhinos and chimpanzees so, children will enjoy visiting them.
When on Safari in Kenya, Nairobi which is the capital of Kenya should also not be under looked In order to offer your children a memorable tour, Nairobi should be among your essential schedules. Therefore, the following are the interesting activities that the children may definitely adore in the beautiful capital city of Nairobi.
Intermingle with baby elephants found at David Sheldrick Wildlife Trust: This is a reservation where the children will be excited to observe elephant calves. The biggest number of calves here are orphaned and were rescued from the wilderness and bottle fed at this sanctuary until the point of weaning. Children will observe the young elephants from a close distance as they actively walking and playing with toys exactly like babies. If the children are interested in adopting (sponsoring) a calf, this is possible for $50.
Feeding giraffes at The Giraffe Center: Upon reaching at the Giraffe Manor, the guides will be able to give the children solid foods or pellets for feeding the giraffes plus a brief teaching on how to hand feeding these long-necked animals . The kids will simply have to open their hand wide that has the food and the giraffe will prolong its neck for it. The giraffes have a tendency of appreciating their guests with a soft kiss. Don't forget to your cameras behind to captures these amazing moments.
after feeding the giraffes, there is also a guided 1.5Km nature walk during which the kids can identify as many as sixty (60) species of birds, different squirrels, warthogs and dikdik.
Get up close with animals at The Nairobi Animal Orphanage: This is a rehabilitation center for wild animals that were rescued after they got sick, injured, or orphaned. Kids will easily interact with the animals in their cages. They will also have a close-up view of lions, jackals, cheetahs, leopards, baboons and many more. This can be easily combined with Nairobi National Park Safari.
Visit the Nairobi animals Orphanage: this rehabilitation center has wild animals that were rescued and treated after being sick, orphaned or injured. Children will interact with them as they visit cage by cage. In addition, there will e up-close views of jackals, cheetah, baboons, leopard and lions among other animals.
Please Contact Us for more ideas on which destinations are idea for a family vacation for you and your kids.
What is the Best Time for a Family Holiday in Kenya?
Right from the month of July to October, the country is congested with holidaymakers from all over the world who visit to see the wildebeest Migration in the Masai Mara Reserve – making it the peak tourist season. Most people organize their holiday in this period so if the kids are too young, you are likely to do away with this period.
To prevent congestion, visit the country in the months of January to June. Generally at this time there are very few tourists and the rainy season begins in March to June.
Still, don't let a little shower keep you away. Planning your safari around these 'low season' months will help you secure the best accommodation at a reasonably low price.
Please let not the little rain scare you; plan your safari during the low seasons and we shall help you book wonderful lodges preferably at low costs
In these rainy seasons, most campsites and lodges are ever flexible when it comes to their time table and services. In case when there are fewer people in the lodges, they will be glad to put together some special dishes for the kids. There are chances of getting a private safari-vehicle at a much discounted price considering the fact that there is less demand.
If you are travelling for beach and would like to take your family for a wildlife safari please check out our Mombasa safari tours that start and end at the beach hotels in Mombasa, Diani, or even Malindi and Watamu.
Lastly, don't forget to take your camera with you so that you capture all the beautiful happy moments of you, you family and Africa's amazing wildlife, and even share with those you left back home. We look forward to helping you organize your Family Safari Holiday in Kenya,, please contact us for a one on one engagement with our knowledgeable reservation agents.