Discover the beauty of East Africa without breaking the bank. Dive into our comprehensive guide for budget-friendly safaris in Kenya & Tanzania, and embark on a wildlife adventure of a lifetime.
African safaris are often perceived as luxury experiences, conjuring up images of lavish lodges and extravagant budgets. However, an unforgettable safari adventure in Kenya and Tanzania doesn't have to break the bank. With careful planning and the right approach, you can embark on an affordable journey that immerses you in the breathtaking landscapes and diverse wildlife of East Africa. In this comprehensive guide, we'll explore how to make the most of your budget while experiencing the magic of a Kenya and Tanzania safari.
Experiencing the Wonders of East Africa on a Budget – The best places to visit in Kenya and Tanzania
Kenya and Tanzania are both blessed with incredible wildlife areas, each offering unique safari experiences. The best wildlife areas in these countries are known for their diverse ecosystems, abundant wildlife, and stunning landscapes. Here are some of the top wildlife areas in Kenya and Tanzania:
Kenya – Magical Kenya!
Maasai Mara National Reserve
One of Africa's most famous safari destinations, the Maasai Mara is renowned for its exceptional wildlife, including the Great Migration, where millions of wildebeests and zebras cross the Mara River.
Amboseli National Park
Known for its iconic views of Mount Kilimanjaro, Amboseli offers excellent opportunities to see large herds of elephants and other wildlife against the backdrop of the snow-capped mountain.
Tsavo East & Tsavo West National Park
Together, Tsavo East and Tsavo West form one of the largest wildlife areas in the world, teeming with diverse wildlife, including elephants, lions, giraffes, and more.
Samburu National Reserve
Located in northern Kenya, Samburu is home to unique wildlife species such as Grevy's zebras, reticulated giraffes, and Somali ostriches, along with other wildlife typical of the savanna ecosystem.
Tanzania
Serengeti National Park
One of Africa's most iconic and celebrated wildlife areas, the Serengeti is famous for its Great Migration, as well as its resident predators, such as lions, leopards, and cheetahs.
Ngorongoro Conservation Area
The Ngorongoro Crater, a UNESCO World Heritage Site, is a caldera teeming with diverse wildlife, offering some of the best opportunities to spot the "Big Five" in one location. The big five animals of Africa include; The African Lion, African Elephant, The leopard, Bufalloes, and the Black Rhinos.
Tarangire National Park
Known for its large elephant herds, baobab-dotted landscapes, and diverse birdlife, Tarangire is a hidden gem in northern Tanzania.
Selous Game Reserve (Now Nyerere National Park)
One of the largest game reserves in Africa, Selous boasts a mix of diverse wildlife, including elephants, wild dogs, and a significant population of birds.
Factors to consider when planning a budget Kenya and Tanzania safari.
Here are 10 Key Factors to consider when planning a Budget Safari in Kenya and Tanzania.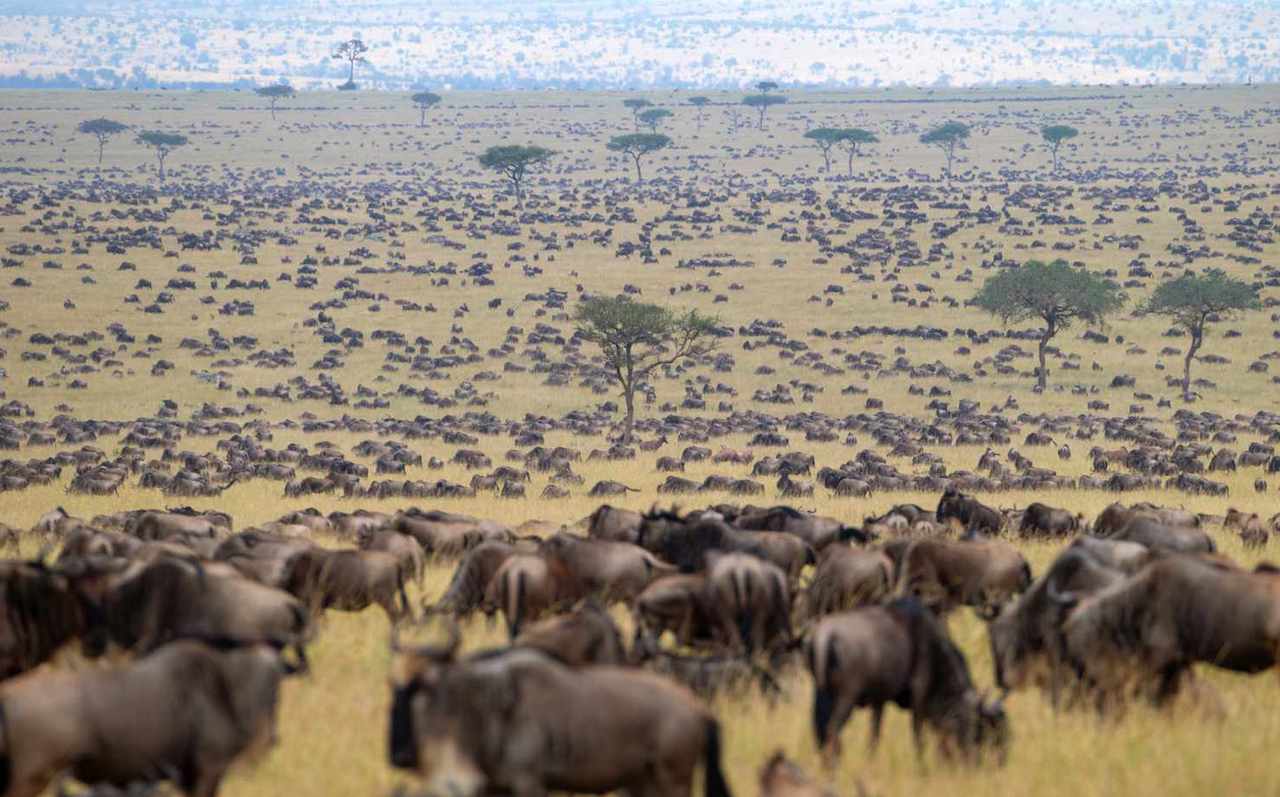 Going on a safari in the iconic landscapes of Kenya and Tanzania is a dream for many. However, it's essential to plan wisely to ensure you get the most out of your budget safari. Below are the crucial factors to keep in mind:
Time of Year

Both Kenya and Tanzania have distinct high and low tourist seasons. Traveling during the off-peak season can offer significant cost savings, fewer crowds, and a unique wildlife viewing experience.

Duration of Stay

Determine how many days you intend to spend in each country. A shorter trip can cut costs, but ensure you're not missing out on must-see destinations.

Accommodation in Kenya and Tanzania

From luxury lodges to budget-friendly campsites, your choice of accommodation can significantly impact your safari budget. Research options, read reviews, and consider what amenities are essential for your experience.

Transportation

Consider the modes of transport. While domestic flights save time, overland trips on safari vehicles can be more cost-effective and offer scenic views along the way.

Park Entry Fees

Both countries have varied entry fees for their national parks and reserves. Research in advance and budget accordingly.

Guided Tours vs. Self-Drive

Guided tours offer the expertise of a local guide, ensuring you see and learn as much as possible. However, if you're comfortable navigating, a self-drive safari can be a more budget-friendly option.

Visa and Vaccination Costs

Both Kenya and Tanzania have visa requirements for many international visitors. Also, certain vaccinations might be necessary. Factor these costs into your budget.

Local Experiences

Engaging with local communities, visiting Maasai villages, or enjoying local markets can be enriching and often more affordable than structured tourist activities.

Food and Dining

Consider dining options. Some safari packages include meals, while others don't. Local eateries can provide authentic experiences at a fraction of the cost of tourist-oriented restaurants.

Travel Insurance

While it's an added expense, travel insurance can save money in unforeseen circumstances, from lost luggage to medical emergencies.
A budget safari in Kenya and Tanzania doesn't mean skimping on the experience. With meticulous planning and an understanding of the factors above, you can immerse yourself in East Africa's wonders without breaking the bank.
For more tips and safari package details, visit Safari Desire Dive into the heart of Africa with us and create memories that last a lifetime.