How much does a Kenya safari cost? What is the safari price in Kenya? What is the average cost for Safari in Kenya? Most of our clients would ask such questions when they start researching and gathering information before they travel to Kenya.
The Price for a typical Kenya Safari, staying in mid range lodges, will costs USD 300 Per person / per day on average. That price is inclusive of; transport, accommodation, safari game drives with a private tour guide, and park entry fees. This is based on a minimum of 2 people travelling together and sharing one lodge room or safari tented room.
As much as the question is a very genuine one, the question has no direct answer because Kenya safari prices are determined by several factors among them; number of people travelling together, type and luxury level of accommodations included in the safari package, the parks visited, and the time of the year (season) that you visit Kenya for safari.
We will try and give you an explainer on what drives the cost of safari in Kenya, but also give you an insight and a rough idea on how much your Kenyan safari should cost.
Find here below a tale of sample Kenya safari packages with their prices:
Kenya Safari Package Prices
Factors that determine Kenya safari prices
There are several factors that determine the prices for safari in Kenya. We have listed a few factors that determine the cost of Kenya safari tours here below. 
1. Kenya Safari Prices – Accommodation
Accommodation used on safari helps us to customize the prices for safari in Kenya into at least 3 categories; Budget, Midrange, Standard Luxury and Deluxe. The seasons in Kenya also helps us categorize prices in at least 4 categories; Low Season (also Green Season), Shoulder Season, High Season and Peak Season.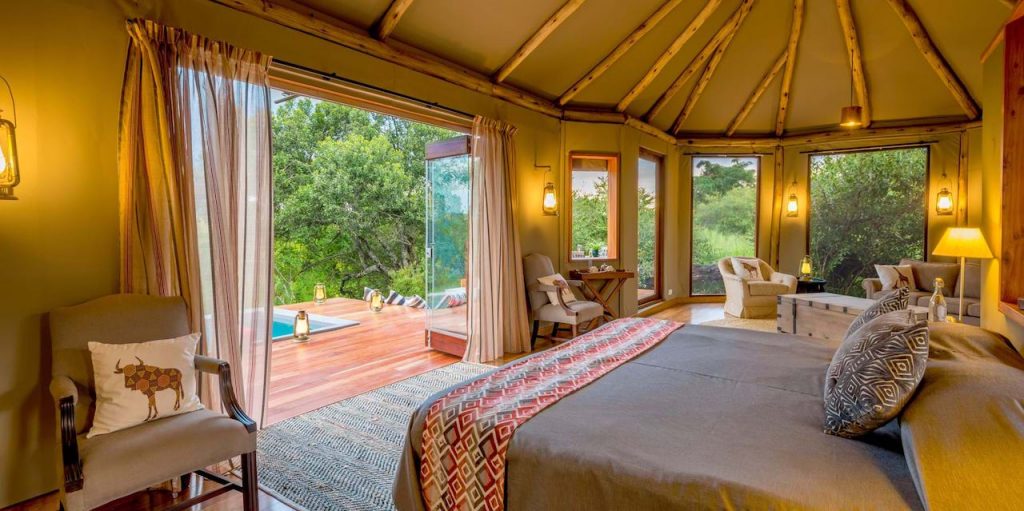 Contrary to what many people think, lodges and tented camps are categorized together. There are mid range lodges and tented camps that costs similar on average, and the price ranges from USD 200 to 380 per double room that sleeps a couple in one big bed, or a twin bedroom with two single beds inside.
Similarly, a standard luxury lodge or tented camp would cost from USD 400 to around USD 580 per double or Twin room. In our own classification as safari experts at Safari Desire; a Deluxe lodge or tented camp room starts at 600 USD to around USD 800 per double or twin room. Any lodge at this deluxe level can be classified as a 5 Star lodge or tented camp in international standards. 
Any double room at a lodge or tented camp that costs above USD 800 falls under the High End / Top Market lodge category and internationally could fall at '7 Stars'.
We have many sample Kenya safari packages that you can book and go, but you can also request for customization of any tour that we have on our list. We also tailor make tours to suit your needs and ideas. 
2. Cost of safari in Kenya depends on number of people travelling together
Number of people coming on safari also plays a big role in determining the price of safari in Kenya. This is due to the fact that the per person sharing price depends on how many people are sharing in one room, the more the cheaper. The number of persons sharing the cost for the safari 4×4 jeep or safari van also determines the price per person. The more the people in the van or jeep (that seats 6 people), the cheaper the per person cost.
This also brings to us the fact that the vehicle used on safari also plays a part in determining the cost of safari in Kenya.
Safari price for 2 people travelling together is therefore more than 4 people (adults) travelling together, and price for 6 people travelling on a Kenya safari together is even lower. This explains why going on an overland safari using the larger trucks that can seat more than 20 people in one car costs the lowest on average; per person / per day.
3. The type of Car used during the safari
Using a normal safari van which usually is a customized Nissan van or Toyota Hiace or a Nissan van costs slightly lower than using a customized 4×4 safari Land cruiser jeep. The ordinary safari vans can be used throughout the year but during the rainy seasons; April – May, we recommend using the Customized 4×4 safari land cruisers.
4. Length of safari (Duration) influences Kenya safari prices
The number of days spend on Kenya safari directly affects the cost of the safari tour you are planning to book. The more the number of days spent on safari the costlier the total cost of safari. It is important to note that the arrival day and overnight stay at a city hotel in Nairobi or Mombasa costs less than the safari days proper.
The safari days includes transport (the car), fuel, guide fees, park entry fees as well as accommodations in the national parks and reserves, which mostly costs more than the cost of hotels in cities like Nairobi or Mombasa.
5. Kenya safari cost depends on the safari destinations visited
The destinations visited also affects the price of safari in Kenya, because the different parks charges different national park entry fees. Some national parks and reserves also tend to have cheaper lodges and camps than others.
Kenya Wildlife Service a government parastatal body that is charged with protection and management of national parks in Kenya has classified the most prominent parks in three categories, namely; Premium parks, Wilderness parks and Urban safaris.
The below table shows the entry fees for the the most prominent parks in Kenya.
| | | |
| --- | --- | --- |
| National Park in Kenya | Per Adult (18 yrs and above) | Per child (3 yrs to 17 yrs old) |
| Lake Nakuru National Park | USD 60 | USD 35 |
| Amboseli National Park | USD 60 | USD 35 |
| Tsavo East / Tsavo West National Parks | USD 52 | USD 35 |
| Meru National Park | USD 52 | USD 35 |
| Aberdare National Park | USD 52 | USD 26 |
| Nairobi National Park | USD 43 | USD 22 |
The below table shows the entry fees for the the most prominent national reserves in Kenya.
| | | |
| --- | --- | --- |
| National Reserves & Conservancies in Kenya | Per Adult (18 yrs and above) | Per child (3 yrs to 17 yrs old) |
| Masai Mara National Reserve | USD 80 | USD 45 |
| Olpejeta Conservancy | USD 90 | USD 45 |
| Samburu National Reserve | USD 70 | USD 40 |
| Mara North Conservancy | USD 120 | USD 75 |
| Taita Hills Wildlife Sanctuary | USD 30 | USD 20 |
| Solio Ranch | USD 80 | USD 60 |
For more information park entry fees for all national parks, you can check out the KWS website by Kenya Wildlife Services. 
6. Kenya safari prices depending on the time of travel (Safari seasons)
The time of the year when your travel to Kenya for safari also plays apart in determining the cost of your safari. There are 3 main safari travel seasons in Kenya and the safari accommodations costs differently during those here main seasons.
The Green Season 
This varies from lodge to lodge but usually falls from 1st April to 31st May. Some lodges and camp also have late March & sometimes November to mid-December
The Shoulder Season
This also varies a lot from camp to camp but typically the month of March, Month of June and 1st November to Mid-December.
The Peak Season
The peak season in Kenya falls between July to October and again during the Festivities; Christmas and New year. Some lodges and camps also charge the Easter holiday weekend as the Peak safari season.