Wasini Island visit is one of our best Day trips that we offer from Mombasa or Diani Beach or even other beaches like Tiwi near Mombasa City. Join us for an unforgettable tour of this magnificent island in the Kenyan coast a tour that starts early in the morning and goes on for the rest of the day so we offer it as a full day tour including transfers to and from Mombasa.
Wasini Day tour Tour Itinerary
After an early breakfast at your hotel pour driver will pick you up we drive to Shimoni "The place of the Cave" where we will take a dhow to Kisite Mpunguti Marine Park that offers some of the best snorkeling sites in Kenya and East Africa at large. Enjoy the best snorkeling on the South Coast and relaxing day on a tropical land.
Activities on Wasini Island Day tour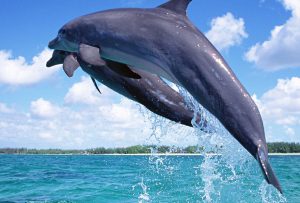 During the Wasini island tour all snorkeling equipment is provided by us, but don't forget to bring your own swimsuit. We serve Soft drinks are served on board the dhow to Kisite Mpunguti.
At Mid-day (lunch time) you will be taken back to the Wasini Island, which has a typical coastal village and here Superb seafood will be served in a traditionally styled Restaurant where you will sample some of the Kenyan coastal delicacies.
Kisite-Mpunguti Marine National Park is one of the best marine reserves in Kenya manned and protected under the Kenya wildlife Service (KWS). The 'park' covers 28 sq km of basically pristine coral reefs, some of the best in this part of the world and offers excellent diving and snorkeling opportunity in the Indian Ocean.
Guests also have a reasonable chance of seeing dolphins in wild in the Shimoni Channel as well as the amazing humpback whales which can also sometimes spotted between August and October in this area.
More often than not during this tour to Wasini Island and the Kisite Mpunguti Marine Park, curious dolphins join guests and play both on the surface and under the water. Also slow moving turtles saunter over the reefs.
After lunch you can choose to do an optional walk around the village with the guide of your day's guide. Later in the afternoon we will return to the Shimoni jetty by dhow in for your transfer back to your hotel in Diani Beach, or Tiwi Beach or Mombasa.
Your driver will bid you farewell and leave you to relax ready for your next day's activities which can be a Day trip city tour of Mombasa City or Gede Ruins or even the start of your 03 days Safari to Tsavo East and Tsavo West national Park.