125 Kilometers West of Arusha town Lake Manyara National Park lies under the 600 meters of a rusty golden walls of the Great Rift Valley that runs from Egypt to South Africa.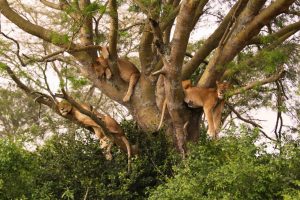 The be beautiful national park covers an area of about 330 Km sq of which 230 Km sq is the lake Manyara itself  and the rest is land unbelievably rich in pain game , predators ,birdlife, and fauna.
are usually found napping up the branches of the acacia trees in lazy afternoons. It is believed that by so doing they not only shelter from the scorching sun but also they seek refuge from disturbance of flies. The lake is area is a bird's haven harboring masses of them including flamingoes, pelicans, and so many more.The lake Manyara National park is famous for its unique tree climbing Lions which
One of the tours we offer including teh Lake Manyara National Park is our 12 days combine Kenya and Tanzania safari tour staying in lodges and tented camps.
Other animals also found in the National park include; Elephants, hippos, impalas, baboons, monkeys, leopards, zebras and many other more. Statistics have shown that the park harbors the highest concentration of elephants per square Kilometers in Tanzania.